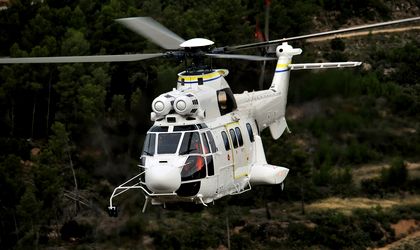 Airbus Helicopters Industries is planning to create in Romania a cluster of suppliers capable to deliver solutions and equipments for Airbus Helicopters, the company announced during a meeting at the new factory in Ghimbav with other 70 firms.
"We are eager to start production in Romania for the H215 helicopter. We are impressed by the high interest showed by Romanian suppliers to work with us. We believe in the Romanian suppliers' capacity to deliver quality, lead time and costs and we are looking forward to work together in order to increase competitiveness," said Serge Durand, General Director Airbus Helicopters Industries. "Our goal is to develop in Romania a supply chain not just for the helicopters produced by Airbus Helicopters Industries in Romania, but also globally", General Director Airbus Helicopters Industries Durand said.
H215 is an aircraft built in Romania, suitable for a wide range of missions such as utility, United Nations peacekeeping operations, logistic and support missions and even military (H215 M) . Both EASA and FAA certified, H215 is equipped with the latest, most modern technologies, meeting the latest safety requirements of the market. In particular, H215 can fly safely in degraded visual environment thanks to its unique 4-axis automatic pilot.
"We are ready to start H215 production here in Brasov as soon as a significant order of H215 is in force to allow a minimum production flow for the industrial romp-up", said Durand.
"Romania's aeronautical industry enjoys both experience and competence and we are here to work along with the local suppliers to further enhance capabilities and to grow, with the final, mutual scope to deliver together a quality product, made in Romania. It is not a beginning, but a continuation of Airbus' rich, historic cooperation with Romanian supplierrs. I am optimistic", said Franck Micholet, Vice President, Head of Dynamic Systems and Strategic Procurement at Airbus Helicopters.
The meeting was attended by companies such as Aerostar, Aeroteh, Romtehnica, IAR, Electromagnetica, Alro Slatina, IMSAT, Turbomecanica, Sonovision Romania, Siemens and others.
Georgeta Gheorghe