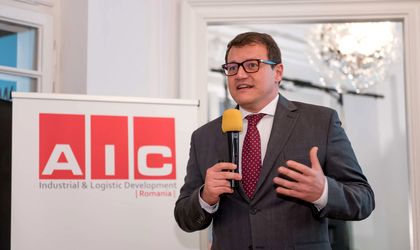 AIC Industrial & Logistic Development will develop of a 21,000 square meters A-class warehouse within the frame of its cooperation with Vabeld Group, through its Romanian subsidiary Varoed, as investor.
The space is located within Bucharest Industrial, situated at km 13 on Bucharest–Pitesti highway, and offers an infrastructure ready to accommodate high-end logistical and industrial operations.
The construction of the project, initiated in mid-September, will be completed by mid-March 2017, the latest. The space will be dedicated to the storage and manipulation of general and ADR products. The project consists of two buildings. Warehouse S1 is a storage space with a total surface of approximately 18,000 sqm, 227 m long and 66.25m wide, an exterior height of 14m and interior height of 11,5m. Hall S1 will feature 22 loading docks. The second building within the project represents a cross-dock warehouse, with a total surface of 3,459 sqm and 6m height. The latter was developed on the "built-to-suit" principle.
The whole idea behind the investment decision started from looking at the market trends and identifying an increasing request for express goods transportation, delivery of small parties (just in time), in a precise manner from a qualitative and quantitative point of view.
Delamode already rented, on a long term basis, a total of 10,352.9 sqm of the future project.
"We are delighted of Delamode has entrusted us with this unique logistic project and that we were preferred as developers from a pool of very qualified competitors. As far as the available space is concerned, thanks to the advanced negotiations with other potential clients, we plan to underwrite the current available surface well ahead the warehouse completion schedule (March 2017)," says Stefano Albarosa, CEO of AIC Industrial & Logistic Development.
Interested in the local investors' performance?  We'll be revealing case studies, future plans, opportunities to learn and cooperate across markets at the Foreign Investors Summit 2016 – Where Romania means business – November 1-3, Bucharest
"We proudly join high-quality projects, the best available in Europe present time, such as the one conducted by AIC Industrial & Logistic Development, our unique partner in Romania," said Didier Kerckhof, managing director of Vabeld Group.
"Regarding the layout, we have to say that this is a new concept in Romania and, by building this x-dock platform with an innovative design, we offer a 240 pallets / hour cross-docking capacity, with almost 18 trucks of different sizes in operation simultaneously. The daily usage of this platform is now of 15 hours/day, at a 75 percent capacity. According to our estimations, we hope to be using it at optimum capacity in the first 6-9 months since kicking-off operations.Our investment in infrastructure and equipment is estimated at EUR 650,000, " said Danor Ionescu, CEO Delamode Group.
Georgiana Bendre