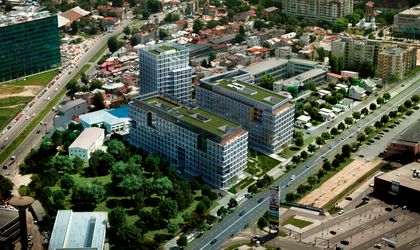 AFI Europe Romania, part of the international holding AFI Europe, will start the development of AFI TECH PARK, a 50,000 sqm business park situated close to the Romanian Parliament. The first phase of the project, AFI TECH PARK 1, is scheduled to be delivered in the first quarter of 2018 and will offer 20,000 sqm of office spaces.
"After the successful completion of AFI Park 1-5, AFI Europe Romania is targeting a new office project in Bucharest that will answer the growing work space demand of multinational companies that need to be located close to the City Centre. AFI TECH PARK is an integrated business project. The tenants in AFI TECH PARK will benefit from amenities and services, having 4,000 sqm of commercial areas at the ground floor of the office buildings and being situated across the street from Vulcan Retail Park and Liberty  shopping mall located 300 meters away. We are certain that this business area will become, as it happened with the Centre West part of Bucharest, a pole of interest to the expanding multinational companies," said David Hay, CEO AFI Europe Romania.
AFI TECH PARK comprises two low rise Class A buildings and one office tower.
AFI Europe operates in Romania since 2005, being active in the commercial and office property segments. The company is planning to sell three of its office buildings in Bucharest for close to EUR 100 million
Georgiana Bendre