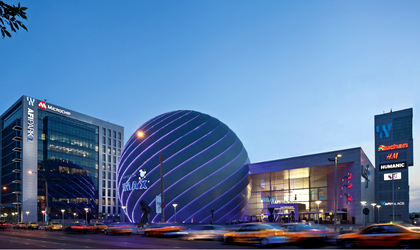 AFI Europe has announced the signing of the most recent lease agreement with Peek& Cloppenburg, which will open a new location in AFI Cotroceni shopping mall in Bucharest. The store will be opened this autumn and will occupy a gross leasable area of 5,200 square meters, on two floors.
The Peek&Cloppenburg store is part of the new expansion of AFI Cotroceni, which is currently under construction. The extension works will be completed this year and will add 6,800 sqm of GLA, thus so that the leasable area of AFI Cotroceni will have approximately 90,000 sqm. In addition, the expansion includes an additional parking deck for the mall, which will be completed in May 2017, so that the total parking spaces in AFI Cotroceni to close to 3,000.
"We are happy to welcome Peek&Cloppenburg as an important premium fashion anchor to our mall. This major step, which is part of the 6,800 sqm expansion of AFI Cotroceni, is strengthening our position as the leading and most dominant shopping mall in Romania and one of the most dominant in the CEE region. AFI Cotroceni, which continues to develop and to innovate, is improving its performances each year. In 2017 we will continue our strategy to innovate, develop and expand the offer of brands, both in field of fashion and entertainment. Thus, we guarantee an improved and various shopping experience to our visitors," said Sorin Scintei, general manager AFI Cotroceni.
Peek&Cloppenburg is one of the known fashion retailers, with a network of over 100 stores, in 15 countries. The European brand has a tradition of over a century and markets collections of international brands for male and female.
In the first nine months of 2016, AFI Cotroceni generated a net operating income (NOI) of more than EUR 25 million, representing 10 percent higher results compared to the first 9 months of 2015. At September 30, 2016, AFI Cotroceni was valued at EUR 467 million, an increase of 7.6 percent compared to 2015.In addition, the number of visitors in the first nine months of 2016 increased by 5.5 percent and the occupancy rate is 99 percent.
AFI Europe operates in Romania since 2005.
Georgiana Bendre