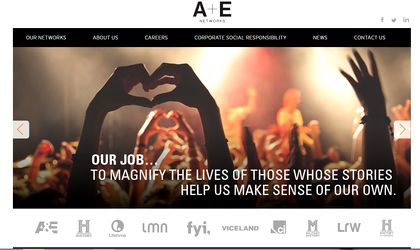 A+E Networks UK today announced a strategic new ad sales partnership with leading group THEMATIC Channels. The collaboration will support A+E Networks' ad sales activities in Romania for HISTORY, its flagship channel, and underlines the company's increased focus on ad sales growth across EMEA.
From February 2017, THEMATIC Channels will represent the channel in their spot and non-spot sales, including branded content and programme sponsorships.
"We are excited to partner with THEMATIC, the leading sales house for third party channels. With their proven track record of delivering highly-effective strategies across Romania, we're confident THEMATIC will help us identify and deliver even more valuable opportunities for HISTORY, our top brand in this important market," said Luke Duffy, vice president of Advertising Sales at A+E Networks UK.
"We are thrilled to represent A+E Networks in Romania. HISTORY has been covering a leading position within the factual entertainment industry over the past four years in Romania. Thanks to its young and educated viewers, HISTORY holds one of the best demographics within the entire TV market. THEMATIC Channels' portfolio allows advertisers to access high quality viewers,'' added Radu Budes, managing partner at Thematic Channels.
 A+E Networks UK has delivered double-digit ad sales growth across EMEA in the past year.
HISTORY is currently available in over 5.3 million homes in Romania, through Digi, Telekom, UPC, iNES IPTV and Orange TV.
A+E Networks UK is a joint venture between A+E Networks and Sky.
Romanita Oprea