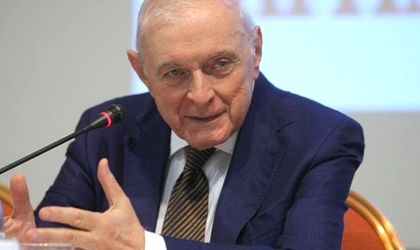 Adrian Vasilescu, strategy consultant at the National Bank of Romania (BNR), said on Wednesday for Digi24 that the BNR governor always makes public statements when there are risks to the country's financial stability and that he did the same earlier this week, when he came out to talk about the bank asset tax (or "greed tax") recently introduced by the Dancila government through an emergency ordinance.
"This greed tax, which is based on a money market rate, is unique on Earth – nobody has ever had this experience before. Because everyone understands that it can't end well. People have said today that the RON has fallen due to the things that happened at the National Bank. What did happen? The governor did what he's been doing since September 1990. Every time when there have been risks, things that could change balance in terms of financial stability, the governor has made public statements about them. That's what he did yesterday. He came out and told us his point of view. Now, the Finance minister says he will call him in to explain. That's not possible. There's a legal framework in place, called the National Macroprudential Committee," said Vasilescu.
Vasilescu added that the invitation addressed by the Finance minister to BNR governor Mugur Isarescu "did not sound friendly at all", and that it sounded "like an ultimatum", claiming that the governor can't respond to such a call.
"The governor said yesterday that it can't be discussed on television. It's something we need to discuss within a legal framework. And that's the only framework there is for such discussions. Of course, the minister could invite the governor to come to the Ministry, but this invitation did not sound friendly at all. It sounded like an ultimatum and I don't think the governor has the right to respond  to such an ultimatum-like call," the BNR consultant said.