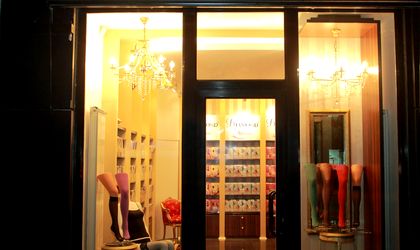 Romanian fine socks and stockings manufacturer Adesgo has invested EUR 25,000 into opening a private-owned shop in downtown Bucharest on the Nicolae Balcescu Blvd under the Diamond by Adesgo name. The first such shop was opened last year on the premises of the Adesgo factory in the capital.
"In the future Adesgo plans to open similar shops in Bucharest and in the main Romanian Romanian cities – Iasi, Constanta, Brasov, Timisoara, Craiova," said Shlomo Binder, the company's commercial manager.
For the first semester Adesgo has reported a turnover of RON 24.3 million (approximately EUR 5.7 million) and expects higher sales for the second half of the year following the launch of the new products and opening its second store.
Adesgo has a production capacity of about 6 million pairs of stockings per year. 80 percent of the company's production is exported. Adesgo works for several retailers in Europe and the Middle East such as Tesco (UK), Hema (Holland), Falke (Germany) and Dunnez (Irland).
Since 2002 the majority shareholder of Adesgo is Loar BV part of Israeli Argaman Industries.
Simona Bazavan