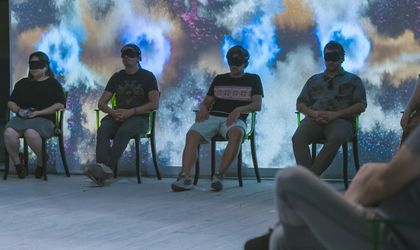 Kubis Interactive, McCann Worldgroup Romania and Publicis Romania / Publicis One had the best creative ideas in September, according to the ADC Romania members.
The new Grolsch challenge tried to translate visually the emotions we feel when listening to music, an experiment with three ingredients for 14 participants: a live concert, neuroscience and visual art. "Awake Your Curiosity Experiment" was created by Kubis Interactive in the time vicinity of the Awake festival, with a team formed of Florin Busuioc, art director and Carina Toma, copywriter.
Ruxandra Matache, group creative director & member ADC Romania present the five motives that determined them to give the best grade to this idea: "Simple idea, a bit beyond classic advertising // Explains in a visually striking manner a pretty abstract concept – how much we are affected by stress. Kudos to Aural Eye for the visuals! // It proves in an engaging manner that anyone can be creative when he / she relaxes and concentrates on one thing. // Seamlessly combines art with science and technology. // It really fits with the Grolsch brand, the Experimentalist platform and with the promoted event – Awake Festival."
The second place belongs to McCann Worldgroup Romania for the campaign launching Taco Bell, the only Taco Bell on a 1208 km radius, the first in the CEE. McCann's team included Arpad Rezi, art director and Bogdan Costin, copywriter.
Third place goes to Publicis Romania/Publicis One for the Visa surprise: "A gift from Visa – Morgan Freeman narrates Carmen's Facebook comment". The team comprised Karla Georgescu, art director and Ruxandra Drilea, copywriter.
September's accolades go to: Golden Brau & Geometry Global, for "Panoul care aduce distractia facuta de soare pe plaja" (with Stefan Vasilachi – head of art & Bogdan Costin – senior copywriter), the team Funky Citizens for "Infografice civice" and the cover of the latest Decat o Revista magazine, with the theme "Noi si ei" (Them and us), a creative ping pong between Lehel Kovács, Illustration, Artemisa Pascu, Design and Cristian Lupsa, Editor.
Romanita Oprea