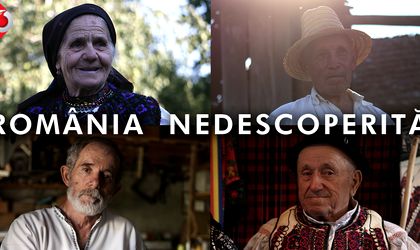 McCann Erickson, Headvertising and Groupama & Custom Cars for Doua Lozuri (Two Lottery Tickets) are the agencies awarded in October by the members of Art Directors Club Romania for the most creative ideas in communication.
"Romania nedescoperita" (Undiscovered Romania), the campaign signed by McCann Erickson for Vodafone Romania, promotes the Romanians recognized by the Ministry of Culture, The National Commission the Saving the Intangible Heritage, as Living Human Treasures for the protection of the authentic Romanian traditions. The team that worked for the project is formed of Daniel Strugariu (Senior Art Director) and Ruxandra Papuc (Senior Copywriter).
"It's an idea as it should be, very strong and simple," said Dan Frinculescu, group creative director Publicis Romania & member ADC Romania.
Headvertising came second with the campaign "Cum se fac bunicii?" (How are the grandparents created?) for NN Insurances and pensions. It focuses on Pensiopedia, the online information platform of the persons that want to save money in their pension account. The campaign is created by Andrei Besliu (Art Director) and Catalina Ceparu (Copywriter).
The 9 episodes' series "Dinel, Sile and Pompiliu" is ranked third. Actors Dragos Bucur, Dorian Boguta and Alexandru Papadopol promote the movie "Doua Lozuri" (Two Lottery Tickets) through an unique contest that has as a prize a vintage car Dacia 1300, used in the film. The episodes were made with the help of Groupama and Custom Cars.
The next three accolades go to "Orange Home" – Publicis Romania, Provident – Antimanifest – Jazz and MedLife – Marea Scoala Romaneasca de Medicină (The Big Romanian Medicine School) – also created by Jazz.
Romanita Oprea