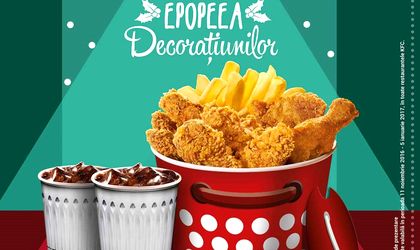 McCann Erickson agency signed the top two most creative ideas of November, according to the members of Art Directors Club Romania. The winning campaigns were created for the brands KFC and Sprite. Three is the agency that closes top 3 with the campaign "Zanul Antreprenor" (The Entrepreneur Male Fairy).
KFC Christmas Bucket, the promotional campaign for the new product, launched in limited edition, has three TV spots (Salveaz-o pe mama, Salvează-l pe tata, Salvează-l pe Athos) that illustrate the efforts done by the family's members in preparing the perfect holiday's celebrations. KFC invites the consumers to enjoy the relaxed days, with the new Christmas Bucket. Moreover, with this occasion, KFC launched also an online platform in which the visitors will be able to write their own holiday's carol for the loved ones.
"The spots are reminding me of Wes Anderson's movies and his attention to details and all the three characters are appealing and well built. KFC continues to make good work in its own style. I feel it will be an interesting month in the holidays' spirit, with brands that are challenging themselves in the best Christmas ideas – and that is good!," said Andrei Bortun, CEO The Institute & member ADC Romania.
Sprite Doza de Adevar (Sprite The Truth Can), the second awarded campaign encourages the consumers to recognize the naked truth about the Sprite cans. They show, as the can is getting warmer, one of the 31 combinations of replies. For the courageous ones, Sprite launches periodically truth challenges on the brand's Facebook's page.
Zanul Antreprenor (The Entrepreneur Male Fairy), campaign created by Three for Banca Transilvania, has in the major role the character always playing the Fairy. This time around it's presented his real identity and the clients find out that he is, as well, an entrepreneur and a client of the bank. His story can be seen here.
The next three accolades went to the ideas for Miss Marion Davies – Coca-Cola (the restoring of the mural paintings from Arad by Coca-Cola)– McCann Erickson, #sarbatorileinspira – Orange Moldova – Publicis Moldova and Electrecord 2016 – Headvertising.
Romanita Oprea