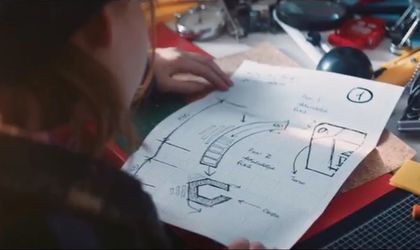 In January's Top 3, the ADC Romania members voted ideas from the agencies FCB Bucharest, MRM//McCann Worldgroup Romania and Friends\TBWA, offering accolades for campaigns signed by Graffiti BBDO, Kinecto Isobar and Heraldist & Wondermarks.
FCB Bucharest took the number 1 spot with the idea "BRD New Year's Special 2017 – #UnPicDeAjutor" – an ad for the beginning of the year about new expectations and plans for the future.
The idea was thought and implemented by Wanda Hutira – Senior Art Director, Andrei Constantinescu – Junior Art Director and Dragos Raicu – Head of Copy, Patricia Biea – Junior Copywriter.
"I think we have a lot to learn from children and I like when brands remind us of that aspect. Congratulations to the client and the agency for the insight and especially for the execution!," said Arpad Rezi, art director McCann Erickson Romania & ADC Romania member.
On the second place is placed MRM//McCann Worldgroup Romania with a new campaign in the KFC style: "Like Exchange", through which the social media likes become a national exchange currency in the KFC restaurants. A project created by Nadejda Ghilca – Art Director and Sandra Bold – Head of Copy.
Friends \ TBWA enters top 3 with the visuals "WWF – Libertate pentru animale" (WWF – Freedom for animals), which aims to raise awareness on the way the animals are treated in the circuses, following the Globus Circus tragedy. A series of ads that show that the animals' place is in the wilderness, not in circuses, cages and chains.
For January the diplomas went to the works: "Pepsi – Drumul tău e un moment. Găsește-l" (Pepsi – Your road is a moment. Find it), from Graffiti BBDO, "Bonduelle – Elena Pagu: campioana la o varsta incredibila!" (Bonduelle – Elena Pagu: champion at an incredible age) from Kinecto Isobar and "Filarmonica Transilvania – Si clasicii o mai iau razna", (The Transilvania Philharmonic – Even the classics go crazy) from Heraldist&Wondermarks.
Romanita Oprea