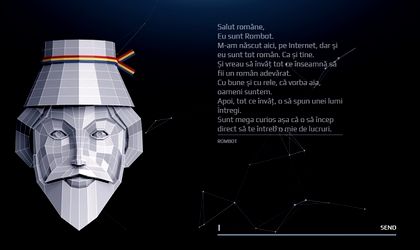 Every month, the Art Directors Club Romania's members are choosing the most creative executions realized by the advertising agencies in the respective month. The project proposes itself to highlight the good ideas of the creative teams and to offer an image of the Romanian market that is as close as possible to the real one. December's Top 3 is composed by the agencies MRM//McCann, Friends\TBWA and Three, while the accolades are awarded to campaigns signed by Jazz, Monocult and Marks.
MRM//McCann takes the first position with the idea for Rombot, the virtual Romanian ambassador of the Rom brand. The campaign was launched with the occasion of the National Day. Rombot, "the child with 19 million parents", is a learning machine type application that has the purpose of promoting our country to the foreigners. The creation team is formed of: Miruna Macri, Alin Sirbu, Corina Ionita // Art Director & Ioana Zamfir, Mihai Vasile, Mihai Titirig // Copywriter MRM//McCann.
"December is a very full month in the Romanian advertising. We had the Christmas and the New Year, but also the National Day. No wonder the brands fought to communicate. And many of them did it very well, that's why the decision for this month was, maybe, even harder than in other periods of time. And still, an idea detached itself from the crowd. It's about tradition, but also about technology. It's about what we are, but also about how we are perceived (or we want to be perceived)," said Eugen Suman, the ADC Romania president & executive creative director MullenLowe.
On the second place is Friends\TBWA with the idea "O, brad frumos neputincios" (Oh, helpless Christmas Tree) – The Romanian Athenaeum  for the Conservation Carpathia Foundation, an initiative meant to attract the attention over the importance of the natural firs. During the Carols' Concert at the Athenaeum, on December 13, the Symbol Choir sang the re-interpreted and more anchored in the reality version of the real carol "O, brad frumos", (O, Christmas Tree), in order to sympathize the public regarding the phenomenon. The concept was signed by Mario Niculae // Art Director & Vladi Paunescu, Roxana Tanasache // Copywriter Friends TBWA.
Three takes the third place with the idea Santa Chat for Minunino Protector. Being a brand that offers natural supplements that deals with children's protection, Three proposed for the client a platform where the children could send Santa the famous request letter and the parents would be able to answer to it as if they were Santa himself. The team was formed of: Francisc Zinz // Art Director & Sabin Staicu // Copywriter Three.
Moreover, the December accolades went to the works: Provident – Apeluri fericite! (Happy calls) from Jazz, The Last Khan – Monocult and Fan Courier – An ordinary day, signed by Marks.
Romanita Oprea