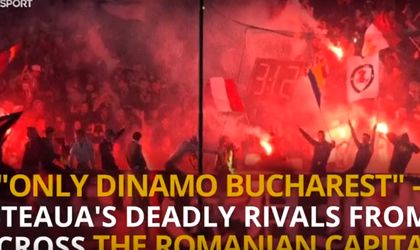 The members of Art Directors Club (ADC) Romania decided that the idea of the Dinamo Supporters (Galeria Dinamo), with the stunt organized at the play-off game in the Championship League Steaua – Manchester City, deserves the number one spot in August's ADC ranking that includes the best ads and creative ideas.
The game on the National Arena started initially with a choreography whose message seemed to be created by Steaua's fans, but instead it transformed itself in a message supporting Dinamo.
"I chose to give this idea the maxim scoring because it succeeded in surprising in a huge way. It made everybody talk about it and many rivals applauded it. I appreciated a lot, besides the effect, the meticulous work prior to the game and the patience to buy in time the rival's trust, necessary on order to make this prank possible. I appreciated the instant buzz that the idea produced, not the team behind it. This is how the communication should function at its best – so as not to sense the construction behind it. So far, I believe that it is this year's best stunt," said Razvan Capanescu – chief creative officer McCann Worldgroup Prague & ADC RO Member.
Graffiti BBDO and Jazz are the agencies to get the second and third places in the ADC ranking for August.
In the "Pepsi – Spirit liber cu Tudor Chirila & Vama Veche" (Free Spirit with Tudor Chirila & Vama Veche) campaign, signed by Graffiti BBDO, 150 people answered Pepsi's challenge to experiment in the most authentic manner the definition of a #spiritliber (free spirit). Therefore, during Vama's Bucharest concert, Tudor Chirila invited the people present to continue the concert alongside him in Vama Veche. This idea won the second place. The team working on the project was formed of: Vlad Socianu / Mihai Calota (Art Director) & Alex Tocilescu (Copywriter).
On the third place came "Repornește-te" (Restart Yourself) campaign, created by Jazz for the LITOMOVE brand, a drug for the joins' health. The campaign succeed in presenting in a very unique manner Stan Turcu's story, a 68 years old pensioner that is training for the ultra-marathon of 166 km that will take place in the Alps. For the campaign worked Alexandru Buta (Art Director) & Valentin Suciu / Andrei Stanciu (Copywriter).
The following three diplomas were offered to the campaigns Mastercard – Priceless surprises at Electric Castle with Alternosfera, ROM – Invata imnul, (Learn the Anthem), both created by McCann Erickson Romania, and Festivalul de Film Istoric Rașnov – Cetatea Rașnov @ Air BnB, campaign signed by Golin & Mullen Lowe.
Romanita Oprea