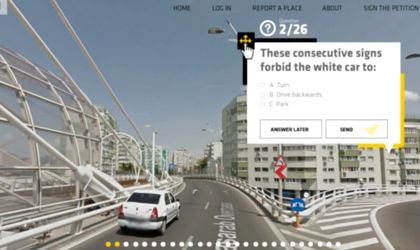 Publicis Romania continues to receive recognition for its ACR Street View Test, which was just awarded a Wood Pencil at D&AD Festival, within the White Pencil category, and three other trophies at New York Festivals.
Street View Test reinvents auto tests of driving schools, using real situations from Google Street View. In this way the platform becomes, for the first time, an instrument for traffic education which can be applied anywhere in the world.
"We are very proud and happy to achieve such a result at D&AD. It is the festival that awards creativity to the highest standards. The fact that we are the only agency from Romania awarded this year at D&AD and New York Festivals is an achievement that proves once more the quality of our products, for which I want to congratulate the entire team from Publicis Romania," said Jorg Riommi, chief creative officer of Publicis Romania.
"Officially, ACR Street View Test became the agency's most awarded project. And, for some time now, we are working for a new ACR project, for which we hope we will have to buy at least one more shelf," also added Dan Frinculescu, group creative director at Publicis Romania.
The campaign has another 14 awards and nominations in Cannes Lions, Eurobest, Golden Drum, Internetics and FIBRA Awards. It was also included in the Creative Sandbox, the official collection of projects preferred by Google.
Romanita Oprea