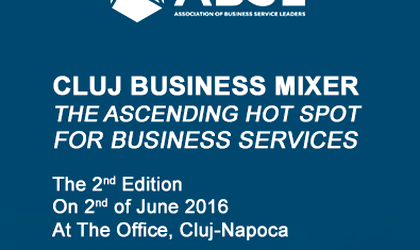 The Association of Business Service Leaders (ABSL), a leading organization representing the business services sector, gathering high profile companies which conduct business in the area of Shared Services Center (SSC), Business Process Outsourcing (BPO), Information Technology Outsourcing (ITO), Research and Development (R&D), is pleased to announce the second edition of Cluj Business Mixer, an event that will offer you the possibility to interact with representatives of the industry, while at the same time exploring the opportunity to develop across the country.
The event will take place on the June 2, 2016, at The Office, in Cluj-Napoca.
Cluj Business Mixer's theme "The Ascending Hot Spot for Business Services" will bring together leading decision makers in the industry for an integrated debate about the development of the business services industry in Cluj-Napoca.
Through such events, ABSL creates a live platform for knowledge sharing, information exchange and enables long term growth for its members and for the industry.
For more information, the event agenda and speakers, please visit http://www.absl.ro/events/business-mixers/cluj-business-mixer-2016/agenda-speakers.
ABSL aims to lead the business service sector's expansion and transformation into an integral part of Romania's economic growth through industry collaboration and by engaging authorities and interest groups in developing the key operational and development aspects.