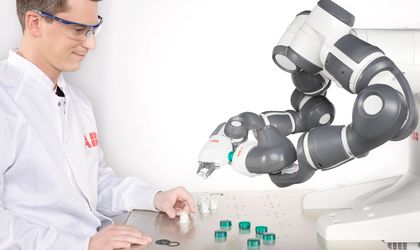 ABB, the leading power and automation company,  announced on October 5 that YuMi, the world's first truly collaborative robot, will be showcased at Magi*k, an interactive exhibition which opens today and runs through November 15, 2016 at the Sala Dalles in Bucharest.
Magi*k is part of "Creative Sweden," an event focused on design, technology, science, education, authenticity and innovation and aims at bringing together and making known the accomplishments of Swedish companies in Romania through exhibitions, conferences and workshops, expecting over 30,000 visitors.
YuMi heralds a new era of human-robot collaboration, bringing innovation and productivity to ABB's Romanian customers in the manufacturing and assembly field. It is a perfect robotic co-worker able to work side-by-side on the same tasks as humans, while ensuring the safety of those around it. Thanks to its dual-arms, flexible hands, universal parts feeding system, camera-based part location and state-of-the-art motion control, YuMi has equal application in any small parts assembly environment.
"We are excited about the new possibilities YuMi brings to Romania. Specifically designed to replicate human attributes, YuMi is a game-changing innovation providing complete solutions to our customers in the automation of small parts assembly domain." – said Tomasz Wolanowski, Country Managing Director of ABB in Romania.
YuMi can operate in very close collaboration with humans thanks to its inherently safe design. It has a lightweight yet rigid magnesium skeleton covered with a floating plastic casing wrapped in soft padding to absorb impacts. YuMi is also compact, with human dimensions and human movements, which makes human coworkers feel safe and comfortable.
ABB has an installed base of more than 300,000 robots worldwide and of over 900 industrial robots in Romania alone. ABB is a market leader in Romania in the Robotics domain, the main applications served including welding, painting, packaging, palletizing and handling. ABB also offers preventive maintenance to the solutions implemented for its Romanian customers. With YuMi, ABB is once again pushing the boundaries of robotic automation by fundamentally expanding the types of industrial processes which can be automated with robots.
ABB (www.abb.com) is a leading global technology company in power and automation that enables utility, industry, and transport & infrastructure customers to improve their performance while lowering environmental impact. The ABB Group of companies operates in roughly 100 countries and employs about 135,000 people.