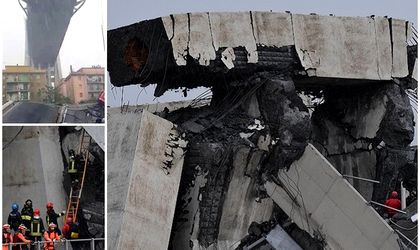 One Romanian citizen was identified among the deceased after the collapse of a portion of the Morandi Viaduct on the A10 motorway near Genoa. Earlier Wednesday, the Italian authorities said that a second Romanian citizen was killed in the incident. However, the Romanian Ministry of Foreign Affairs said the first Romanian declared dead was actually alive, but in stage four coma.
The Italian media states that 39 people have been killed due to the partial collapse of the bridge.
According to MAE, given the seriousness of the incident, complex rescue and removal operations under the rubble are still underway.
Sul Ponte Morandi di #Genova c'era anche chi si è salvato dal #crollo per pochi metri. Come Davide Capello, che si trovava sul viadotto, al momento del disastro: "Ho visto la strada davanti a me crollare". pic.twitter.com/u7u4UZ1IeB

— Sky TG24 (@SkyTG24) August 14, 2018
"A mobile consular team headed by the head of the consular office in Turin went to the scene of the incident and the hospitals in the area to provide consular assistance. According to the preliminary data obtained to date by the mobile consular team on site, a Romanian citizen was also identified among the deceased persons ", MAE reveals.
The quoted source shows that the mobile consular team will continue its night-time assistance and will keep the link with both the Crisis Cell set up at the level of the local authorities and the medical units to which the victims were transported.
"The Consulate General of Romania in Turin prioritizes the situation and maintains contact with local authorities, providing the necessary consular assistance in such situations, including issuing the necessary documents for the repatriation of the dead body and the issuance of the death certificate," MAE stated.
Photo source: tg24.sky.it