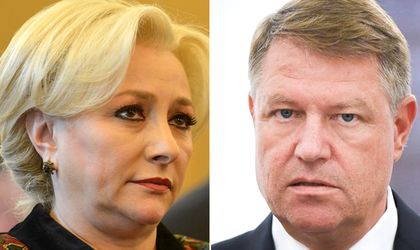 President Klaus Iohannis made a statement demanding the resignation of PM Viorica Dancila, saying that she is unable to handle her role as prime minister and that she is turning the government into a vulnerability for Romania.
A few hours earlier, PM Dancila had informed the president that she would not attend the meeting scheduled for today at the Cotroceni Palace, where the president had intended to mediate the apparent conflict between the government's representatives and the National Bank of Romania.
Iohannis recalled the oath PM Dancila made when she took office in January, and said that it doesn't just mean that officials need to follow the Constitution ad-literam, but also that "the principle of loyal collaboration needs to be followed, that we follow the need for consultation in the interest of Romanian state between the president and the PM, that the decisions of the Constitutional Court are also followed." Instead, Iohannis said, "Ms Dancila chose to carry out the orders she received from her party."
President Iohannis also said that he takes issue with the fact that the government had publicly discussed a secret document, the memorandum about a possible move of Romania's embassy in Israel from Tel Aviv to Jerusalem, despite the fact that the Constitution says that the president is the decision-maker in foreign policy.
Viorica Dancila and PSD leader Liviu Dragnea made an official visit to Israel on Thursday, where they met with several Israeli leaders including PM Benjamin Netanyahu. The visit was announced only a few hours before the two officials left for Israel, and Iohannis said that it was "unprecedented" for a prime minister to make an official visit without informing the president about the objectives of the visit, and he criticised the "secrecy" of Dancila and Dragnea in the matter.