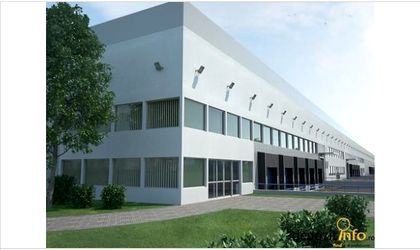 Areas in northern Bucharest such as Stefanestii de Jos and Chitila have the potential to form a new logistics hub, according to the real estate consultancy company Colliers International. Over 180,000 sqm of logistics space are to be delivered next year, as the West of the capital has become overloaded in terms of the development of industrial and logistic spaces.
In the past year, Colliers International has advised the largest transaction in the industrial market for an active client on the retail market, concluded by the Polish fashion retailer LPP, which brought to Romania its five brands: Reserved, Sinsay, Mohito, Cropp and House. LPP has rented an area of 22,100 sqm in a project developed by the Belgian company WDP in Stefanestii de Jos, Ilfov County. Here, WDP bought a 44-hectare plot of land in a deal advised by Colliers International.
"As we estimated in 2016, the North of Bucharest is emerging as a future logistics hub, especially for e-commerce players. Our arguments regarding the area's potential were enough to convince one of the largest industrial and logistics developers in Romania, WDP, to invest in this area. The Belgian investor bought a 44-hectare plot of land in Stefanestii de Jos, and in less than a year we managed to attract a very important tenant like LPP. We believe that these achievements are proof of Colliers International's vision in the industrial market", said Laurentiu Duica, director of the industrial department at Colliers International.
The 22,100 sqm distribution center developed by WDP, which will host LPP's e-commerce activities, is to be completed in the second half of next year, when WDP's real estate portfolio in Romania will exceed EUR 500 million.
"From the beginning, I had confidence in Colliers' view of the Bucharest northern area's potential to become an important logistics hub. Our investments and the already concluded lease agreements are a confirmation of this potential and underline the importance of Romania for our real estate portfolio," Jeroen Biermans, general manager of WDP Romania, stated.
LPP's distribution center in Stefanestii de Jos will be able to provide the Internet sales service for all its brands in Central and Eastern Europe. The company will be present on 20 foreign markets, including Bulgaria, Croatia, Romania and Serbia.
"The North of the Capital is different from the West due to the attractive workforce costs and availability. In addition, the delivery points of the goods are closer to the North than to the West. It is only natural that developers wish to build in these areas and we expect more than 180,000 sqm of industrial and logistics spaces to be delivered next year," the Colliers International expert added.
This year, we are headed for a 40 percent increase in deliveries of modern industrial spaces, surpassing the previous record volume reached in 2017 by approximately 0.5 million sqm. In the first semester of 2018, 330,000 sqm of modern storage space (excluding spaces developed directly by potential tenants) were delivered. Deliveries in Bucharest were recorded mainly in western and northern areas, reaching more than 110,000 sqm, Timisoara added 38,000 sqm, and Pitesti and Ploiesti each 20,000 sqm each.
Even though the stock of modern storage space may exceed the 4 million sqm threshold by the end of 2018, Romania continues to be behind other countries in the region, suggesting that there is still room for growth.