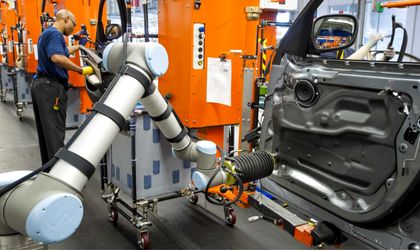 According to Universal Robots, if the number of industrial robots doubled, the number of employees would also increase. Since 2013, the number of employees in the Romanian industry has increased by about 100,000, up to 3.7 million, according to National Institute of Statistics (INS) data.
Over the same period, the unemployment rate declined from 7.1 percent to 4.9 percent.
The Romanian industry has doubled its robotic density, from 9 to 18 robots per 10,000 workers between 2014 and 2017, according to the International Federation of Robotics (IFR). 
Auto industry – the biggest target for robot makers
According to the IFR, around 3,100 robots work in Romania, and 40 percent are used in the automotive industry. Another area where industrial robots are in high demand is plastic and rubber processing, which uses 22 percent of the base installed by the robots.
Last year, Romania bought 634 industrial robots. The IFR estimates that in 2018 and 2019 Romania will buy fewer industrial robots than in previous years because the automotive industry has not recently announced any significant automation investments.
Worldwide there are over 2 million industrial robots and 2017 saw the largest sales volume in the industry's history, of 381,000 units. More than a third of the total was acquired by China, which also has the largest number of robots in service – 470,000.
The IFR estimates the number of industrial robots around the world will be about 4 million in 2021. The demand will be supported by technologies such as the Industrial Internet of Things (IIoT), collaborative robots, artificial intelligence and big data.
World leaders in this area are South Korea with 710 robots, followed by Singapore with 658 and Germany with 310 robots per 10,000 workers. Japan, which was the at the top in 2009, is currently ranked 4th, with 301 robots per 10,000 employees in industry.
Collaborative robots (walkers) are easy to use, adaptable, cost-effective and can be safely used. These can be programmed simply and quickly, even by people without experience. Ease of use is equivalent to a significant decrease in the cost, programming time and production time of the robot, which contributes to the recovery of the investment in a much shorter term than the usual large robots.