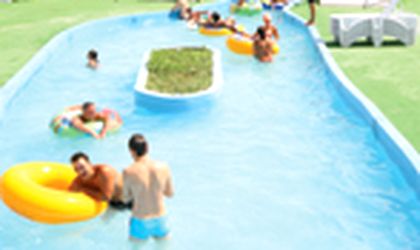 Romania has registered an FDI inflow in tourism of EUR 186 million between 2006 and 2010, according to a report on tourism issued by BCR. In the same time period, neighboring Bulgaria was able to attract EUR 450 million. Romania has also posted a negative aggregate income in the balance of tourism between 2006 and 2010.
The study also reveals that the check in rates of foreign tourists in Romania is closer to Slovakia and Bulgaria, and 5 times lower than Croatia. In addition, 90 percent of the foreigners arriving in Romania are on holiday while only 10 percent have business interest, while in Poland this number increases to 22 percent.  Although Romania is mainly a holiday destination for foreigners, the amount spent in Bulgaria is double the one in Romania. However, Romanians make 16 percent of the tourists that visit Bulgaria.     
Romania is also doing worse than Bulgaria in the amount of money spent per trip. This is attributable to service quality combined with poor infrastructure. The report shows that only Slovakia comes behind Romania in this area.
BCR specialists consider that Romania should focus more on attracting tourists from countries that tend to spend the most per trip. At present, Romania is visited only by French and Italian tourists, spending around EUR 1000, respectively EUR 800 per trip.     
The report on tourism also reveals that 3 out of 4 Romanians cannot afford a one-week holiday and almost 98 percent of those to travelling prefer domestic destinations. When travelling abroad, Romanians prefer Italy, Hungary and Greece as the main destinations. When it comes to travel expenditure, Romanians spend on average 6 times more per one trip abroad, around EUR 411, than within the home country, where EUR 70 is spent.
Romanians choose land transportation for domestic trips, while bus&coach transportation is used when travelling abroad. Although, the road infrastructure is poor, the airport coverage in Romania is good and should be further expanded.
The tourism employment (hotels and restaurants) holds around 1.8 percent of the total economy in Romania, below the 4 percent EU average. The Romanian workers in this sector are paid three times less than workers in Croatia.     
The report also shows that the density of tourism establishments in Romania is 11 times lower that in Austria. Hotels are predominant, holding around 90 percent of the tourism establishments.  Over the last five years, Romania has seen the quickest increase in accommodation prices but it has potential in the net occupancy rates during peak season (July-August).
The study acknowledges that Romania's tourism marketing campaign has started to pay up, as the number of foreign arrivals in Romania increased by 11 percent year on year in the first seven months of 2011, while the gross inflows in the balance of tourism were up 16 percent y/y in the same time period.
Ovidiu Posirca