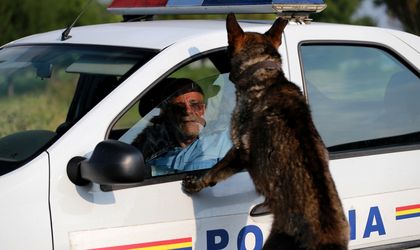 Dogs/ Caini, one of the most expected Romanian movies of this autumn, is currently distributed national wide, through 70 movie halls from 30 cities. In Bucharest, the movie can be seen at Hollywood Multiplex, Movieplex, Băneasa Grand Cinema & More, CineGlobe Titan, AFI Cinema City Cotroceni, Cinema City Mega Mall, Cinema City Sun Plaza, Cinema City Park Lake, Cinemateca Union, Cinemateca Eforie, and Europa.
The first long-featured film by Romanian director Bogdan Mirica, Dogs / Câini, was released during Cannes Film Festival, from where they returned with the FIPRESCI award. Transilvania Trophy was also given to this movie, while from Sarajevo, the team returned with Heart of Sarajevo for Best Actor trophy (Gheorghe Visu) and Special Mention of the Jury.
Dogs is the story of Roman who returns to the land near the border with Ukraine he has just inherited from his grandfather. Fully decided to sell this vast but desolate property, he is warned by the local cop that his grandfather was a local crime lord and his men will not let go of the land – and their smuggling business – without a fight. The main roles are played by Dragos Bucur, Vlad Ivanov and Gheorghe Visu, while Romanian actors Teodor Corban, Raluca Aprodu, Costel Cascaval and Constantin Cojocaru can also be seen on the silver screen.
"Dogs is a rural police movie and an existential thriller, but also an anti-Western from the Balkans – a Molotov cocktail of genres, original and unpredictable, exploding nonchalantly in the garden of the New Wave. Probably the best Romanian debut since 12:08 East of Bucharest/ A fost sau n-a fost?," describes it Mihai Chirilov, the artistic director of TIFF.
Nationwide, Dogs can be seen in Adjud, Alba Iulia, Bacău, Baia Mare, Bârlad, Botoșani, Brăila, Brașov, Buzău, Caransebeș, Cluj-Napoca, Constanța, Craiova, Deva, Focșani, Galați, Gura Humorului, Iași, Mărășești, Odobești, Onești, Oradea, Oravița, Piatra Neamț, Pitești, Ploiești, Râmnicu Vâlcea, Reșița, Sibiu, Slobozia, Târgu Jiu, Târgu-Mureș, Timișoara, Vulcan.
Also, the movie can be seen in special screenings for the citizens of Hateg (September 28), Carei (September 29), Zalau (September 30) and Curtea de Arges (October 1).
Oana Vasiliu