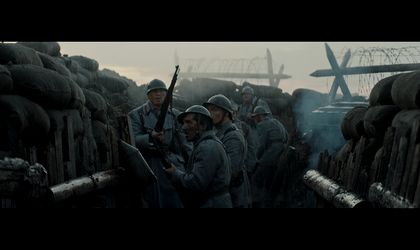 A true story, a hero that hasn't given up in front of the impossible, a journey that took years and reached thousands of kilometers, marked tens of places and people and offered a national heritage to Romanians. All these were told in 60 seconds by the British cineaste Laurence Dunmore, in the BRD's New Year's TVC. A difficult mission as the history that is based on, that intrigued him and convinced the British director to get in the first flight to Romania.
By Romanita Oprea
Laurence Dunmore is a movie director known especially for "The Libertine", a production starring Johnny Depp and John Malkovich, as well as advertising ones, working during time for several campaigns of important global brands. In the BRD's New Year's campaign, Dunmore presents his cinematic vision in a TVC based on a real story about passion, perseverance and overpassing the adversaries.
"When I received the script I was immediately intrigued and tried to find out more about the main hero and his life. I've never been in Romania, but I've already heard many positive things about the creative industries and the movie production. I've understood that I have in front of me the occasion of an epic cinematographic approach due to the amazing journey, in which the hero follows his passion and carries on until the end. In any cinematographic production, no matter the length and the format, there are elements of storytelling that, if are well combined, can take the viewers in time, beyond any location barrier or historic moment. I've staked on on them in order to transform a real, and epic story at the same time, into a 60 seconds movie," said  Dunmore.
"Just as we've done in the last years, we are coming back at the beginning of 2018 – a year especially significant for Romania – as an admonishment of going until the end and to follow our passions and ideals, closely related to the national identity. It's a story that inspired and gathered around it a passionate team and it convinced a director like Laurence Dunmore to get involved," added Sabina Stirb, brand communication manager BRD.
The campaign was created by Propaganda and produced by MultiMedia Est.