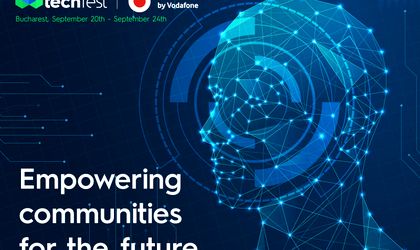 The list of attractions of TechFest, held between September 20-21 in Bucharest, includes an exhibition with robots with emotions detectors and vintage PCs, Science Summit, gaming, concerts and new conferences.
ThePepper and Nao robots which detect primary human emotions, a modular home using robotic force and vintage computers will feature alongside the newest exhibits at XPO Tech. In addition, the agenda includes a Science Summit satellite event with top 10 renowned researchers and scientists in Romania, as well as Gaming days & nights with over 400 players. The event will also offer music and entertainment events, courtesy of Vinyl, Rum, Tapas & Wine collective and Mr. Jurjak.
After two days of talks and presentations of digital trends between September 20-21, TechFest connected by Vodafone, the most complex technology festival, awaits participants at XPO Tech, Gaming, the satellite event Science Summit, plus at a new series of discussions for IT and digital marketing specialists. These are complemented by Mega Hack, Junior Coding Club and special concerts.
Promenada Mall will host XPO Tech, an experimental area for hardware or software technology innovations, smart home and IoT solutions, urban eco-mobility, as well as gadgets. There will also be special interactions which mix technology with body movements, digital interactions as well as virtual reality.
XPO Tech will also host a mini-museum with over 30 systems and components for locally produced computers such as DAF, CIP, TIMs, PRAE, HC, Junior, as well as computers from international companies that have changed the history of computers such as Apple Macintosh 128, Osbourne 1, Kaypro etc. The oldest piece was produced almost 30 years ago.
"The computers are refurbished with genuine parts and are functional. This aspect attracts both nostalgic people as well as enthusiasts, but it also raises curiosity among those who do not know much about the beginnings of technology. The presence at different events is an opportunity to share my passion and inspire people", said Bogdan Tîrziu, the founder of the Museum of PCs in Cluj – the X86 Generation. His partner, Boby Constantin, member of Retrotech Association, added: "We wanted to keep up with those in other countries that already have museums dedicated to retro technology."
At XPO Tech there will also be present Pepper and Nao robots, both capable to detect primary emotions of human conversation partners. Pepper is used in the banking industry in Japan. Nao and Pepper are successfully used in education. Modularity smart home, installed within XPO Tech, is particular due to its energetic performance, multifunctionality and modularity, but especially due to the robots presence which take over and carry repetitive activities of the home's inhabitants.
Also, on Saturday and Sunday, between 12-20, within the same XPO Tech space and in partnership with Nexus Club, the most active gaming hub in Bucharest, will be hosted competitions for professional and amateur gamers.  They will be able to test their forces playing the best known games of the moment (Counter-Strike, FORTNITE, FIFA, League of Legends), but also some evergreens (Age of Empires 3, Red Alert 2, Heroes of Might & Magic) and will experience the latest equipment available on the local and international markets.
Also, on Saturday, there will be programming and robotics workshops for children delivered by Academia inventeaza.ro, Small Academy and AcademyPLUS. Moreover, there will be parties by Vinyl, Rum, Tapas & Wine collective (on Thursday and Friday evening), and on Friday evening Mr. Jurjak will have a special concert.
In the last day of the event, on September 24th, will take place within TechFest the conference dedicated to growth hacking which will include speakers such as Ovi Negrean, CEO SocialBee, Alex Paduraru, CEO Creative-Tim, Theodoros Moulos, CEO GrowthRocks and  Adrian Vlasiu, Country Manager GrowthRocks, international agency with presence in 16 countries.
Also, on Monday, there is scheduled the satellite event Science Summit, taking place at National Theater of Bucharest. Here, the most renowned 10 scientists and researchers from Romania will deliver presentations.
Tickets and more details are available here: techfest.ro.
The main partners of the event are Vodafone and BCR.