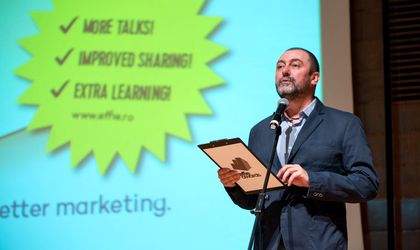 The jury of Effie Awards 2016 competition has selected 49 works that will go into the final out of the 88 ad projects that were included in the race.
The finalists were announced in a special ceremony hosted by journalist Catalin Stefanescu.
The jury in the first round was composed of 50 marketing and communication specialists, research and professionals from the academic environment. In the second round other 40 industry senior will analyze the finalist works and select the winners.
17 agencies were nominated in the 18 categories of the contest: CAP, CohnandJansen JWT, FCB Bucharest, GMP Advertising, Graffiti BBDO, Heist Industries, Jazz, Kubis Interactive, Leo Burnett Romania, Propaganda, McCann WorldGroup Romania, Orange Romania, Publicis Romania, Rusu+Borțun Brand Growers, Tempo Advertising, UM Romania, and Webstyler.
The finalist brands are: ACR, Amigo, Antrefrig, BCR, Bergenbier, Burn, Caroli, Carrefour, Cif, Ciucaș, Coca-Cola, Dacia Logan Prestige, Doncafé, eMAG, Erste BCR, Federația Romana de Fotbal Napolact, Fortifikat, Grolsch, ING Bank, KFC, MasterCard, National Institute for Blood & Untold Neumarkt, OMV, Orange, Patru Mâini, Pizza Hut, Prigat, Strongbow, Telekom, Ursus Premium and Vodafone.
The festival has changed compared to last year's edition, having a new judging formula, with a new grading system, discussions between the jurors about the cases and categories and strict rules for choosing the winners, by aligning to the Effie New York standards. At the end of the competition all the nominated and winning agencies will receive points in the Effie Global Index, one of the most prestigious index tools for agencies, networks and companies in a global level, based on the results obtained in each local Effie festival.
The EFFIE 2016 Nominees Gala – the first of its kind- was focused on presenting the first insights resulted from the judging round. Alongside the EFFIE 2016 finalists, the event also hosted a new Effie Talk, held by Karel Vinck, Chief Digital Brands of Publicis One Belgium & Managing Director of Duval Guillaume.
The winners of Effie Awards 2016 will be applauded on September 22, during the Awards Gala that will take place at Museum of Modern Art (MNAR), the Auditorium Hall. You can find out more about the gala on the website of the competition.
Romanita Oprea