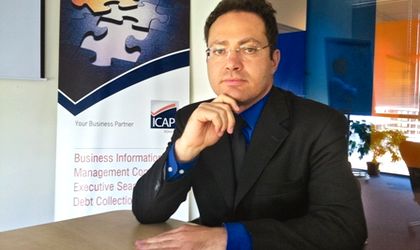 What is the nature of ICAP's partnership with Dun & Bradstreet and how will it impact the  business in Romania?
Under a long-term agreement, ICAP will become the exclusive provider of Dun & Bradstreet's (D&B) services in Romania, Greece and Bulgaria, supplying, amongst other services, information on companies from 220 countries. Likewise, D&B will distribute information on Romanian, Greek and Bulgarian firms, supplied by ICAP. The D&B credit reports will also include the ICAP Rating, which is recognized by the European Central Bank.
The effects will be very positive for ICAP.  We developed the company's portfolio successfully with banks and leasing companies and last year local companies. With this agreement we will serve through D&B the international companies in Romania using D&B information ordered by their HQ.
What ICAP service makes the highest contribution to the company's local turnover?
ICAP Group has four business lines: credit risk services which include debt collection; management consulting; people solutions (executive search, training, leasing of employees); and marketing solutions. Today, the highest contribution to the group's turnover in Romania comes from debt collection, with strong development in the outsourcing of debt collection in B-to-B. The fastest growing activity is business information. Our main success is the credit risk assessment of companies. When we launched our activity on the Romanian market, there was initially confusion due to easy access to financial data. Most firms thought that they were able to process these data using a philosophy of credit risk management. The crisis demonstrated the limits of this approach. In the past most CFOs or sales managers told us that they knew their clients very well or that they were not risky. This is no longer the case.
The turnover of ICAP Group in Romania (ICAP Romania and Cycle European) was EUR 3.5 million in 2010, with 75 percent for Cycle. We plan to have a EUR 4.5 million turnover in 2011.
Do you plan on adding new services or business lines for the local market?
Our strategy is to implement the group's services in each country. We recently developed two new services locally: Google AdWords and Findbiz. ICAP Group is an authorized Google reseller. In Greece, last year we had sales of more than EUR 1.5 million through Google AdWords.