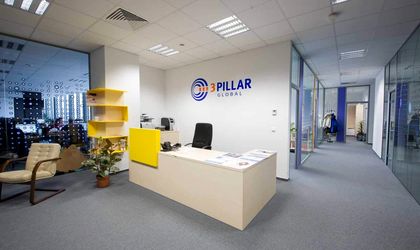 American 3Pillar Global, the provider of IT services, will open the third development center from Romania this August, in Iasi, in Moldova Business Center.
3Pillar Global rented over 700 sqm in the office building Moldova Business Center and until the end of the year the company aims to reach 50 engineers and IT specialists from Iasi that will join the other 450 employees from Cluj-Napoca and Timisoara. Most of the new hirings will be for app developers.
"After the model of the centers from Cluj-Napoca and Timisoara, we expect the office opened in Iasi to grow in the next years. The location is very good and the easy access from different areas of the city were very important," says David DeWolf, the CEO of the company.
The company announced since 2016 the intention of expanding its operations in Romania or region. Iasi was the option chosen by the company's management which took into account several factors: the existance of an important university center and a high number of IT graduates, the qualification level of IT specialists and their availability on labor market, the expansion possibilities of operations and the infrastructure of the city.
3Pillar Global Romania is part of a global organization with operations on three continents and 800 employees. The company has 450 employees and the operational management in Romania.