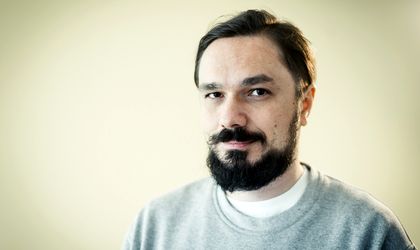 With an estimated turnover of EUR 2.5 million this year, Pegas aims to extend its chain of stores and raise money to open a factory. Andrei Botescu, co-founder of Atelierele Pegas, tells Business Review how the old communist symbol has been reborn as a fresh brand that has caught the attention of today's young cyclists.
By Anda Sebesi
How do you see the new generation of Romanian entrepreneurs and how is it different from the old one?
I wouldn't call it the "old generation of entrepreneurs" because 20 years ago there were no business schools or internet where you could learn good practices in business or entrepreneurship. Even now we don't have a solid academic base to train people in the business field. Instead, we have probably tens of thousands of case studies of businesses similar to your start-up idea, and so models from which you can learn.
In addition, there are plenty of opportunities to study business and benefit from mentoring because there are many people eager to mentor you for free. The new generation of entrepreneurs comes with both much more self-assurance and more relevant and realistic business plans along with an international dimension to their business. They think of it at an international scale from its early stages.
How do you think that business opportunities have changed in the last two decades in Romania?
Now we have access to information via the internet and it's much cheaper to travel worldwide and easier to relocate your business according to your interests. The free circulation of goods and being a member of the EU community help a lot. I think that mobility – both of individuals and goods and services – is the best word to describe this change of business opportunities.
In your opinion, what main principles governed businesses 20 years ago? How different is the situation now and what are your business principles?
I truly believe that planning is the key to success. Since its beginning, Pegas has benefited from medium- and long-term planning. We had a design team that helped us to progress with our range of bike models and have original products which, in time, assured us our identity in the bike industry. We chose to have a permanent design department even though, in general, there is no need for this.
If I take a look at the entrepreneurial businesses that the mass media promotes now, the majority of them seem to have a young, enthusiastic team that have some financial capital at their disposal and who want to prove that their ideas can be implemented. It is similar to Pegas in its early stages, six years ago. As for the situation in the 90s, I think that the courage to build something in Romania, in an unfriendly and permanently changing business environment, is the only constant thing that links the generations of Romanian entrepreneurs.
How does the new generation of entrepreneurs see the local economy and the Romanian market now?
I think that the new generation of entrepreneurs, including us, banks very much on the new economic models, like the shared economy. They are much more careful about the environment. They are more responsible with regards to the future – an increasing number of businesses in the renewable and rechargeable sectors are emerging.
You transformed a symbol of communism into a fresh brand which the young generations use without making the connection with the past. What was your strategy to achieve this and how long did it take?
Pegas used and still uses the perception from the past: we speak about the best-known Romanian bike, Pegas, with the easiest way to recognise its main detail – its long saddle and horn-shaped handlebar. We also speak about communist models that have been reshaped using the latest technologies in the bike industry. Last but not least, we speak about the symbol of Pegas, the winged horse that has super powers. This is what we've managed to do: keep the interest in a product that had disappeared from the market. Pegas was and still is a product loved by the public – both nostalgic individuals and those interested in design and new technologies who understand that beyond an easily recognizable bike there are many hours of research so that the Pegas bike is in line with all the other international cycle brands. This communist symbol still offers us the greatest international awareness in an extremely competitive business and in a country where consumers don't invest in buying bikes. Despite this, we have managed to increase both our sales and our portfolio of Pegas bikes and accessories every year.
How was Pegas positioned in the past and how is it now?
Under communism, it was clear that Pegas was a folks' bike, because all the advertisements had the same communication message back then. Plus, it had a diversified portfolio. Now we can talk of the folks' bike again, as in 2017 we managed to cover all segments of the bike market: bikes for kids, for longer rides, for mountain biking, electric bikes, tricycles and cargo bikes for kids and adults.
How much have you invested in the business so far and what are your plans?
Investment is an ongoing process for Pegas, from opening new stores to processing new bike models, in line with what large international players design. We aim to conclude the investments plan for our Pegas factory by the end of this year, along with our expansion in Bucharest and nationwide, with another ten Pegas mono stores. We also intend to extend our chain of stores through a Pegas franchise, a turnkey business that we relaunched and which is starting to take shape.
Have you accessed any financial sources?
The first major financing came from Network One Distribution, in October 2015, when it took the majority stake in Pegas. Now we are looking actively for new ways to finance our Pegas factory and research lab for which we intend to access EU funds.
Is it easier for entrepreneurs to access money now than 20 years ago?
Yes, if you are inclined to invest time and energy in a large project in order to get European funds or you are convinced enough that your business is extraordinary and you manage to attract business partners that have both expertise and financial capital to support your ideas. In addition, there are plenty of small venture funds that can help you get your business on its feet. Last but not least, crowdfunding is now a valid option – both locally and globally – along with block chain and the future coin.
ANDREI BOTESCU
CO-FOUNDER OF ATELIERELE PEGAS- he is the man behind the revival of the iconic Pegas bicycle, many a Romanian's favorite childhood buddy. Relaunched in 2012, under his supervision, in 2017 the company managed to get a complete portfolio for each and every category of bike, from urban to e-bikes.