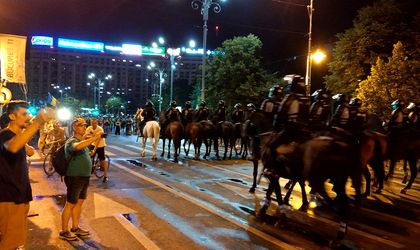 A total of 192 complaints were filed against the Romanian Gendarmerie after the August 10 violent protests in Bucharest's Victoria Square, Ionel Corbu, first prosecutor of the Military Court announced.
According to Corbu, 160 of the gendarmes who served on Friday evening during the protests have been identified up until now. The Romanian authorities are carrying out an investigation into the conduct of the gendarmes after their brutal intervention involving water cannons and tear gas left more than 400 injured.
He also said that the Gendarmerie sent a large part of the documents he requested, but "it is necessary to request further additional reference data necessary and useful to the cause."
"A team of the Bucharest Military Prosecutor's Office is conducting criminal prosecution acts on the basis of the delegation ordinance of the General Prosecutor's Office. At present, I am telling you that a great deal of the requested documents have been received from the Romanian Gendarmerie, from the analysis of which it is necessary to request additionally the other necessary and useful reference data ", added Ionel Corbu.
According to Corbu, the investigators have already received the action plan, the intervention plan and the log of the operative actions. He added that they also requested the intervention order, given by Bucharest interim prefect Speranta Cliseru. "Of course, we asked for the intervention order and we are still waiting for it."