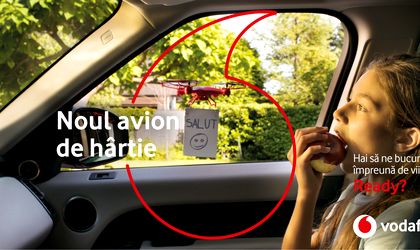 Vodafone Romania launches new brand positioning campaign as part of Vodafone Group's repositioning, which represents a significant evolution of the brand strategy and visual identity worldwide and is built around the strapline "The future is exciting. Ready?".
Vodafone's repositioning strategy will be implemented on October 6 across all 36 countries in which the brand is present and is designed to underline the operator's belief that new technologies and digital services will play a positive role in transforming society and enhancing individual quality of life over the years ahead.
The new visual identity emphasizes Vodafone's iconic "speech mark" in the biggest change to one of the most recognizable symbols of Vodafone. The "speech mark" will now appear as the central graphical focus overlaid on all marketing communications activity. The logo will also appear in a new 2D design in place of a 3D approach.
Vodafone Romania's new brand positioning campaign is developed on all communication channels and touch points, including online formats and digital screens, along the traditional ones.
"The new brand positioning builds on an insight resulted from an extensive research conducted by Vodafone Group, which shows that people are excited about the future, but, at the same time, feel a bit anxious about what's coming. An insight true for Romanians, too. Our brand's role is to invite and partner with them on this exciting journey towards the future", said Laura Barbu, brand and marketing communication director, Vodafone Romania.
The brand positioning strategy and related advertising campaigns were developed after an extensive quantitative and qualitative research and concept testing in 17 countries including Romania, on nearly 30,000 people.
In order to build the best approach for the new positioning, Vodafone Group commissioned an opinion research among almost 13,000 people in 14 countries to assess the extent to which people are optimistic about their future prospects. The research conducted by YouGov found that people of all ages believe that technology innovation will have the most positive influence on the future over the next 20 years. Also, people aged 18-24 year are the most optimistic about the future: 62 percent of younger people surveyed believe that living standards will be better in 20 years' time compared with today. Moreover, respondents in all age groups believe that their own living standards and those of their children will have improved 20 years from now.
The YouGov research was conducted between 18 and 25 September 2017 on people aged 18-55+ living in Australia, the Czech Republic, Germany, Greece, Hungary, India, Ireland, Italy, New Zealand, Portugal, South Africa, Spain, Turkey and the UK.
Romanita Oprea