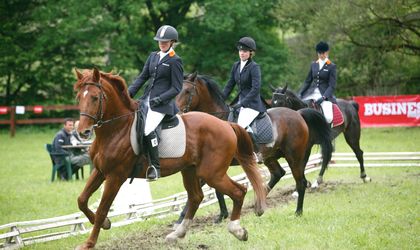 At a loose end? BR brings you the best of Bucharest's cultural highlights for the weekend ahead.
GEORGE ENESCU FESTIVAL
Friday, September 27, 22.30
ACCADEMIA BIZANTINA
Romanian Atheneum
Conductor and clavecin : OTTAVIO DANTONE
Soloist : VIKTORIA MULLOVA – violin
Programme :
J.S. Bach – Concerto for violin and orchestra in a minor BWV 1041
J.S. Bach – Concerto for violin, cemballo and orchestra (trascription BWV 1060)
J.S. Bach – Concerto for violin and orchestra in D Major (trascription BWV 1053)
J.S. Bach – Concerto for violin and orchestra in E Major BWV 1042
Saturday, September 28, 19.30
Palace Grand Hall
ROYAL PHILHARMONIC ORCHESTRA
RADIO ACADEMIC CHOIR
CHILDREN CHOIR of the ROMANIAN RADIO SOCIETY
Conductor : CRISTIAN MANDEALConductor of the choir : DAN MIHAI GOIA
Conductor of the children choir : VOICU POPESCU
Programme :
G. Enescu – Capriccio for violin and orchestra (orchestration by Cornel Ţăranu, after composer's notes)
Soloist : DMITRY  SITKOVETSKY – violin
G. Mahler – Symphony no. 3
Soloist : JENNIFER JOHNSTON – mezzo-soprano
OUTDOOR  
Let's do it, Romania!
Saturday 28, from 09.00
Volunteers from all Romanian counties will go out to clean the garbage situated in green areas, in the biggest project of social responsibility, Let's do it, Romania!  on September 28. In Romania, cleanup actions have taken place for three years in a row. "Up to this point we have had more than 650 000 volunteers helping out and we have collected 150.000 bags of garbage. This year the objective is to recycle over 40% of what we gather,"declared the NGO's officials. According to them, another aim is to develop a national network of NGOs throughout the entire country and to launch a national reporting system for tracking garbage, which will act as an interface between the authorities and citizens.
The event takes place every year with the support of national and local authorities, but also thanks to companies that decided to donate both money and volunteers. If you want to be part of the Let's do it, Romania! team and help cleaning up the country, you can register here.
Salon du Cheval
September 28-29, Tancabesti village
The second edition of Salon du Cheval will begin on September 26, presenting this year "La Nuit du Cheval" held on September 28 at 20.00, a great equestrian night show, taken after the model of the show from Paris. The show will surprise the audience with different numbers, from indoor acrobatics and horseback riding, to spectacle of lights and sounds that illustrate the concept of excellence and creativity in riding. More about this event, here.
Bucharest Science Festival
Until September 29
Several institutions will host the first festival dedicated exclusively to science, held between September 25 to 29 in Bucharest, anticipating the night of scientists that will take place on September 27 in eight cities in Romania.
The Secular-Humanist Association in Romania (ASUR) together with the ParentimeCenter for Parenthood Courses organize the Bucharest Science Festival in the Bucharest French Institute, at the National History Museum (MNIR), in the Magna Aula of the Bucharest University, at the Studio Cinema and at Humanitas Cismigiu. More about this event, here.
Strada de C'arte Festival
September 20-28
Boteanu Street, near Carol I Central Library
The Boteanu Street will turn into a pedestrian area, hosting the greatest outdoor book fair in Bucharest. The most important publishing houses and bookstores, poetry recitals, live blues and jazz concerts, book launches, recycling workshops, film screenings, debates, contemporary art exhibitions and workshops dedicated to children will be part of a unique program the organizers from the Central University Library offer book and arts lovers.
DISCOVER BUCHAREST
Art in Bucharest
Saturday 28, 10.30
Meeting point: Piata Presei
Tour price: RON 80 , contact: art@artinbucharest.com, 0726.008.152
Art in Bucharest will start with a visit with Proiect 1990 at Piata Presei Libere where artist and curator Ioana Ciocan will guide us through the history of this project which is a part of the Romanian history before 1989. Then, we move to Aiurart Gallery to get to know more of the work of Mexican artists Jose Antonio Vega Macotela and Chantal Peñalosa Navarro. They also the ones who's artwork is not exhibited in Piata Presei Libere in Project 1990. Then we move to a Romanian artist, Marius Purice who's going to present us his latest works under the name (i) LOVE ME. More details here.
EXHIBITION
Tani Plana
Cervantes Institute
Until October 30
"No es normal saber nadar", a photo exhibition by Tanit Plana, opens September 26 at the Cervantes Institute in Bucharest. The exhibition includes 40 photos of Bucharest, which the artist explores attempting to erase the boundaries between public and private and to highlight a new reality originating in a new perception of the urban scene.
Illustrator Ada Musat is invited at the opening of the exhibition, where she will draw in an attempt to create a dialogue between drawing and photography. More details about the event here.
Visual Power: 21st Century Native American Artists/ Intellectuals
America 24/7
The National Library
The American Bucharest Corner was inaugurated on June 20 at the National Library and two exhibitions take place: "Visual Power: 21st Century Native American Artists/ Intellectuals." which shows Native American contributions as scholars, professors, museum curators, and writers as well as makers of traditional fine arts, video and photography to document their cultural heritage and their struggle for sovereignty and a second poster exhibit, "America 24/7", accompanied by a book, the result of a project by American author and publisher, David Elliot Cohen, and American photographer, Rick Smolan.  More than 25,000 digital photographers across the U.S. – including 36 Pulitzer Prize winners – responded to the invitation to take pictures of their towns, families, neighbors and friends for 24 hours a day for seven days.  The best photos capturing the diverse authentic America were included in the exhibit. More details, here.
Q.E.D. by Mircea Cantor
The National Museum of Contemporary Art
Until April 2014
More than 1,200 people have attended the opening of the first local solo exhibition of one of the most important young artists to emerge on the international scene over the last decade: Mircea Cantor, winner of the Prix Marcel Duchamp Award 2011. The QED exhibition, the largest survey of the artist's works to date, comprises 30 pieces. More details here.
Oana Vasiliu