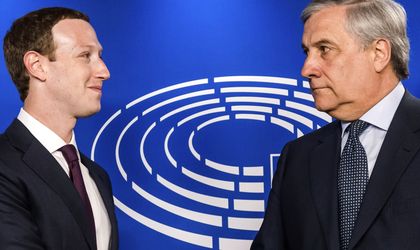 Facebook CEO Mark Zuckerberg has apologised for the shortcomings of the social media giant, which, he told MEPs, includes fake news, foreign interference in elections and misuse of private data. He met with European Parliament President Antonio Tajani and the political group leaders to discuss Facebook's potential impact on the European elections next year.
It has "become clear over the last couple of years that we haven't done enough to prevent these tools from being used for harm as well. And that goes for fake news, foreign interference in elections and developers misusing people's information," Zuckerberg told the European Parliament on Tuesday evening.
"We didn't take a broad enough view of our responsibility and that was a mistake. And I am sorry for it."
The Facebook co-founder went on to express his commitment to investing more resources in security and stated that providing a secure environment for people's data is more important than making a profit.
"I want to be clear – keeping people safe will always be more important than maximizing our profits," he said, adding that the company is planning to double the number of people working on safety and security to more than 20 thousand by the end of 2019. Also, Facebook is investigating thousands of apps and has suspended more than 200 in the aftermath of the Cambridge Analytica data breach scandal.
As for Facebook's compliance with the soon-to-be-implemented European data protection law, GDPR, Zuckerberg said: "We've always shared these values and given people the ability to control what information they share and who they share it with. Now we're going even further to comply with these strong news rules."
However, "security is not a problem that you can ever fully solve," he told MEPs. "We face sophisticated, well-funded adversaries who are constantly evolving. But we're committed to continue to invest heavily and improve our technique to make sure we stay ahead."