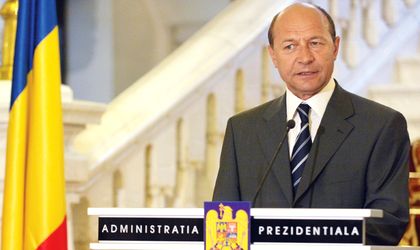 [UPDATE]
President Traian Basescu declared on thursday at the meeting with the IMF delegation that he will not support introduxing the petrol excise tax, but at the same time he will not block the reglementation, as long as nobody asks him to sign for it.
"Looking back at the last IMF mission in Romania, we seem to have turned back to our old ways. Immediately after a small bump in the economy, we start spending more and more. This sets us on the course for a new crisis".
The president criticised the Government's measures to introduce new taxes:
"I"m looking at now at Government expenses, it's a relaxed budget and of course because they are incompetent at collecting taxes, new fees must be introduced. I'm not against enlarging the tax base, I support it, but exaggerations like introducing new taxes on energy and gasoline especially, I think it is a huge mistake and it will damage the economy and the population. IMF and the Government are solely responsible for these measures but I do not believe it is a reasonable solution. I will not block the decision, but don't ask me to sign for them".
***
President Traian Basescu's agenda for today includes a meeting with the IMF, EC and World Bank common delegation at Cotroceni Palace, starting at 11.00 am. The presidential Administration issued a press release to announce the meeting, which the press is not attending.
The negotiations with the president will cover the introduction of the fuel excise tax. Basescu assumed the responsability of arguing in front of the IMF against the flat tax in december 2013.
President Traian Basescu signed the 2014 state budget into law at end-Dec. only after the executive had agreed to delay the enforcement of the hiked diesel- and petrol excise tax by three months.
Also on thursday the IMF will begin negotiations with the Government. Prime-minister Ponta announced that his cabinet is commited to continuint reforms and Basescu's "blockade" will be eliminated after the european parliamentary election.
"If everything goes according to plan", the fuel excise tax should come into law in April, according to the Prime Minister.
The IMF returned in Bucharest this week to assess Romania's progress under a EUR 4 billion precautionary loan deal, as part of a wider review mission that includes the EU and the World Bank. The first two review missions under the new stand-by agreement will be carried out between January 21 and February 5.
The IMF mission, led by Andrea Schaechter, will meet with representatives of political parties, trade unions, business associations, banks, and the civil sector.