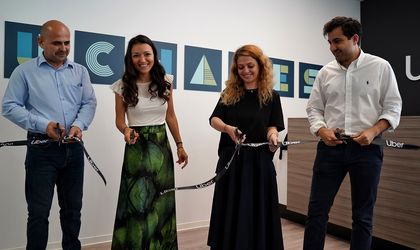 Uber has opened the largest driver support center in Central & Eastern Europe in Bucharest, following an investment of a quarter million dollars. The new 320 sqm space has been designed based on international standards for Uber support centers, the company announced on Tuesday. It will host a team of 11 experts and has the capacity to serve up to 2,500 drivers and couriers per week. 
In the context of the new ridesharing regulations recently passed by the Romanian government, the new center will also serve as a compliance accelerator, supporting drivers get licensed under the new framework. Thus, the new driver center will host representatives of professional certification schools who will offer drivers complete information regarding steps and documents needed for certification. Drivers will have access to all educational materials needed to pass the professional driver test. In addition, Uber will hold sessions for drivers regarding the new requirements needed for getting a license at company, driver and car level.  
"This investment speaks about our promise to be the best better partner for drivers our commitment to Romania overall, where we are seeing a lot of potential. Over the past 4 years, we have launched our ridesharing service into 5 Romanian cities and have brought new services such as Uber Eats or the fully electric Uber Green. On the medium and long term, we plan to become a multimodal platform so that you open your app and have all the transportation option there – be it UberX, e-scooters or e-bikes, taxi and public transportation. On this occasion, we also reinforce our message of cooperation – we want to work with local and central authorities to help reduce traffic and pollution. We hold the data and the technology for that and I am here today to say that we are more than open to put them at work for the public good," said Ash Kebriti, General Manager at Uber for Central and Eastern Europe
According to Andreea Ticarau, Head of Customer Operations & Strategy for Central and Eastern Europe, the company aims to use customer support as one of the main differentiator from its competitors. "Our partners have told us that getting efficient support is one of the most important aspects when working with a ridesharing platform. Our aim is to offer the best support for drivers and our strategy has three pillars: a modern center in line with the global Uber standards which we are inaugurating today, a team of well prepared experts who will receive ongoing training as well as premium, customized support for our largest fleet partners, including business development support." 
In light of the new regulations passed by the Romanian government for alternative transport services, Nicoleta Schroeder, General Manager at Uber Romania, added: "Our commitment is to comply with this new regulation and also support drivers get licensed under the new framework. The new center will also serve as a compliance accelerator, helping drivers comply with the new regulation faster and easier." 
The most experienced Uber driver in Romania, Mihail Duica, also attended the center's inauguration. Over the past 4 years, he has completed over 24,000 trips and has maintained a near-perfect rating of 4.99 out of 5 stars.