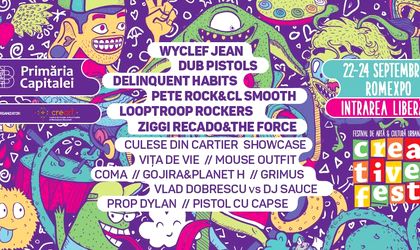 The biggest urban art and culture festival from Bucharest, Creative Fest will take place this Saturday and Sunday at Romexpo. The event is at the fourth edition and it is organized by the Bucharest Mayor office through creart- Creation, art and Tradition center.
There will be three days of concerts, graffiti and freestyle manifestation, acrobatics with skateboards and bikes and a food area. On the stage of Creative Fest you can see Wyclef, Dub Pistols, Delinquent Habits, Pete Rock & CL Smooth, Looptroop Rockers and ZiGGi Recado, Culese Din Cartier, Vița de Vie, The Mouse Outfit, Coma, Gojira & Planet H, Grimus, Vlad Dobrescu, DJ Sauce, Prop Dylan and Pistol cu Capse.
More information here.