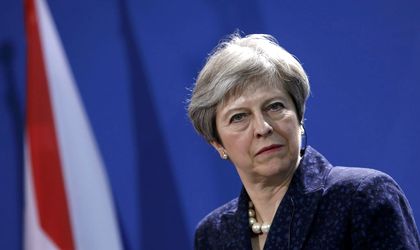 UK Prime Minister Theresa May made a final attempt at gathering a parliamentary majority for a plan on Brexit by presenting a 10-point "new deal" on Tuesday, but MPs in all parties rejected the proposal, according to The Guardian.
May held a speech in London and made a series of promises for her new withdrawal agreement bill, which will be published later in the week. Crucially, the offer includes a binding vote on a referendum on the deal if it is passed by Parliament in early June, which was meant to appease the remainers' camp, but infuriated Brexit hardliners who said they could not back a bill that could end up reversing the 2016 referendum.
More than 20 Conservative MPs who had backed May's initial deal rejected the new one, calling the proposals "hollow". The party is facing a loss to Nigel Farage's Brexit party in the upcoming European elections, which the UK was forced to participate in due to the extension to the Brexit deadline up to October 31.
May warned that a continued Brexit deadlock could open the door to "a nightmare future of permanently polarized politics".
Her 10-point new Brexit deal includes the following commitments:
The UK government will seek to conclude alternative arrangements to replace the backstop by December 2020.
Should the backstop come into force, the government will ensure that Great Britain will stay aligned with Northern Ireland.
The negotiating objectives and final treaties for the UK's future relationship with the EU will have to be approved by MPs.
A new workers' rights bill that guarantees workers' rights will be no less favourable than in the EU.
No change in the level of environmental protection.
The UK will seek as close to frictionless trade in goods with the EU as possible while outside the single market and ending free movement.
The UK will keep up to date with EU rules for goods and agri-food products that are relevant to checks at border protecting the thousands of jobs that depend on just-in-time supply chains.
The government will bring forward a customs compromise for MPs to decide on to break the deadlock.
There will be a vote for MPs on whether the deal should be subject to a referendum.
There will be a legal duty to secure changes to the political declaration to reflect this new deal.
EU officials also expressed disappointment at Theresa May's new proposals, saying they were just a series of platitudes. They were especially concerned about the suggestion that the political declaration could be rewritten to emphasise the ability of the government to achieve "frictionless trade", which sounds like the UK would be seeking a customs arrangement that offers the same benefits as EU membership along with a new ability to make independent trade deals.