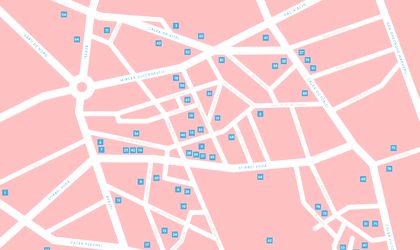 The Institute presents the new collection of the organizers and cultural spaces, creative workshops and stores in the Creative Quarter, through a map that will be delivered in 5.000 printed copies.
The initiative highlights Bucharest's creativity and cultural effervescence, focusing on one of the most vibrant and well-connected areas of the city.
The project brings together creative businesses, artists, organizers and cultural institutions in order to develop the right conditions for creation, production, distribution and entertainment.
82 interest points
The map reunites 82 interest points that have been identified and mapped through a process of vast documentation that had the purpose of establishing a foundation for the creative network that will bring together the particular visions in the coherent development of the area. The interest points were grouped taking in consideration the spaces' functions in: 8 art galleries, 27 workshops and creative studios, 20 pubs, 2 museums and 2 universities, 12 spaces dedicated to the scene's arts, 8 stores and 3 public interest spaces for the users of the first edition of the Creative Quarter map.
"We believe that this map, one of the Creative Quarters instruments, is a material that, once arrived in the tourists' pockets, will contribute to the city's branding process. By promoting the cultural effervescence, Bucharest can position as a creative power poll in Eastern Europe and this thing will attract even more interest, as well as other projects that will co-work in this direction. To be mentioned the sympathy wave that Romania is enjoying thanks to the Romanian creatives. We are known in Europe for the creative highs, but there is nothing known about the good infrastructure that contributing to the creating of these highs that function as ambassadors of the Romanian creativity," Andrei Bortun, CEO The Institute.
The Creative Quarter's visual identity and the map's graphics are signed by Paula Rusu, graphic designer and illustrator.
This cultural project is financed during the cultural Program Bucharest participative City, by the Bucharest's City Hall through Bucharest's Cultural Center ARCUB.
Romanita Oprea