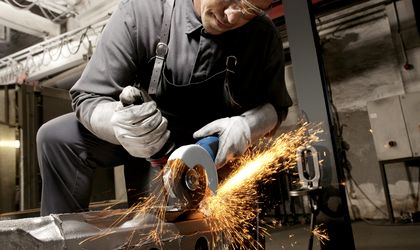 Almost a half of all Romanian employees are paid with the minimum wage, 46 percent, while those who earn more than EUR 700 represent only 16 percent of total, according to a survey of the labor market dynamics at the level of the main industries made by Local Investors Patronage (PIAROM) with the support of the Labor Inspectorate.
Business Review had first reported this spring that more than 44 percent of Romanian employees receive the national minimum wage, compared with 37 percent in 2017.
"A worrying trend is the leveling of the labor force in the area of ​​the minimum wage. We have analyzed the gross salaries and we found that about 46% of the labor contracts are in the minimum wage area – we are talking about figures valid on 1 October 2017. While the staff with over EUR 700 comprise only 16 percent of the labor contracts," said Mihai Cioc, expert at PIAROM, at a study launch conference according to Agerpres.
Another worrying concern is the drop of the share of specialists, in higher education staff, while increasing the share of unskilled workers.
"Another major imbalance is the age distribution. We found that, looking at the skilled workers versus the unskilled workers, the share of unskilled workers is very high, double that of the skilled workers, under the age of 30. In  other words, we found that the level of qualification of the latter generations is lower than that of the other generations, and for this reason we also have a high demand of skilled workers in industries where this jobs are taken by a share majority of employees over 50 years old," said Cioc.
He pointed out that this is because the technical and vocational education system is not adapted to the requirements of the labor market.
Manufacturing is the sector with most employees in Romania, namely 1.23 million, followed by commerce with 889,415 workers, and by the transport, logistics and storage sector with 381,000 and construction sector with 366,500 employees.