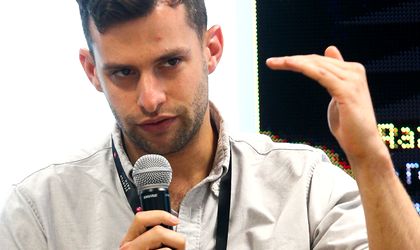 StartUpPath's last panel discussion revolved around four different businesses which started by catering to a niche and ended up building communities around their products and services. The creators of Untold&Neversea, M60, Pegas and TimesNewRoman sat down and shared their insights into the inner working of their businesses, learning from failure and their recipe for building communities.
"I can tell you what the business plan was in reverse," said Razvan Crisan, CEO M60 Group. "Everyone knows how to make good food and drinks. It is perhaps one of the oldest occupations in the world. And when you announce you're going to enter this business everyone has an opinion. Also, you become a disappointment to your family. 'After all that studying and work experience, you are going to become a restaurant owner?,' he said. "But.. when I hear about challenges, I get excited. The more I hear it's not going to work, the more motivated I get," he told the audience.
As far as his experience is concerned, Crisan was equally candid. "We started totally clueless – after years of trying to follow recipes, going to conferences and trying to follow 'the method' I realised I need to drop everything and do things differently. And that's when things started to pay off," he explained.
"When you start something new the advantage is that you can build a reputation for it," he added. "We started a food and drink business in a country where the culture of taste is still up and coming and where people know exactly what and how they want to eat and will let you know about it. We gave ourselves a year and used the money we had. One year later we didn't get ulcers or death so we found it interesting. And then we started another project and found a way to scale," he said.
The secret to the success for the CEO of the M60 Group is built on three pillars. "The first thing what we learned is that design is essential. The second principle is "build businesses around people's talents." Thirdly, working with local entrepreneurs."
Not least, "we don't play the price game. We focus on the quality of the product. We chose the hard way because when you don't have the option to play on prices the only option to stay relevant is to focus on quality. In a market where people focus only on prices our mission is to focus on not only having good ingredients but also providing good salaries while being able to pay the rents, the investments, and other big costs associated with the industry" the entrepreneur concluded.