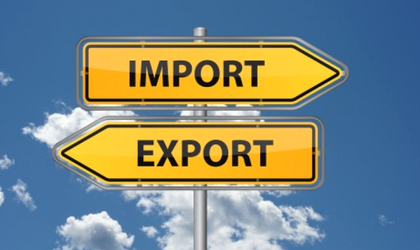 Romania's trade deficit rose by around 18 percent in the first five months of the year to over EUR 4.46 billion compared with the similar period of 2016, according to the National Institute of Statistics (INS).
"The trade balance deficit (FOB/CIF) during January 1-May 31 was EUR 4.46 billion. The value of intra-community goods exchanges (Intra-UE28) was EUR 19.552 billion for outflows and EUR 23 billion at inflows, representing 75.7 percent of the overall exports and 76 percent of the total imports," says the document.
During the mentioned period, the exports and imports increased by 11.1 percent, respectively 12 percent.
According to the INS, the extra-community goods exchanges during January-May was EUR 6.25 billion for exports and EUR 7.27 billion for imports, representing 24.3 percent of the overall exports and 24 percent of the overall imports.
"During January 1-May 31, the important shares in exports and imports structure are owned by the following products groups: cars and transport equipments (47.9 percent for exports and 36.9 percent at import) and other manufacturing products (33.7 percent exports and 30.7 percent imports)," says the INS.
In May, the FOB exports were worth over EUR 5.57 billion and the CIF imports were EUR 6.68 billion, resulting in a deficit of EUR 1.10 billion.