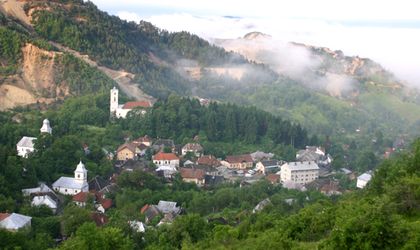 Romanian prime minister Mihai Tudose announced he is planning to end Rosia Montana's bid to become a UNESCO World Heritage Site. The news sparked protests in Bucharest and Cluj over the week-end.
In October 2016, the previous government took the necessary steps for the inclusion of the Rosia Montana mining site on the UNESCO indicative list. Now, the current executive is planning to withdraw the request. "We will try to withdraw the request, to write that we do not open our point of view, placing ourselves in a very peculiar situation as far as the international bodies are concerned, we will see (…) That's where our deposits are," Tudose said last week.
Speaking from Mamaia, Foreign Minister Teodor Melescanu said the Rosia Montana bid is illegal, as it didn't have the approval of neither Dacian Ciolos, PM at the time, nor that of the previous government.
Protesters gathered in Victoriei Square during the past week-end on Saturday as well as on Sunday to protest against the plans announced by the PM.
On October 26, the World Heritage Committee plenum adopted a document including the proposals of UNESCO member states on the objectives to be included on the UNESCO indicative list. Among them, the inclusion of the Rosia Montana site, proposed by Romania, was adopted, Corina Suteu, Minister of culture at the time wrote on Facebook. At the meeting, Romania was represented  by Irina Iamanescu, director of the National Heritage Institute, UNESCO Ambassador Adrian Cioroianu, and Flavio Pironea deputy permanent delegate of Romania in UNESCO.
According to Suteu, "the inclusion on the indicative list is a first step towards the eventual proposal of the site to make the list, a much shorter one, of the UNESCO Heritage. But it is a step that matters," she wrote on Facebook.
Gabriel Resources threatened to sue Romania for USD 4.4 billion in alleged losses. The Rosia Montana mining project was stalled after mass protests.
The list of Romanian UNESCO World Heritage Sites include the Danube Delta, Horezu Monastery, churches in northern Moldova, Maramures wooden churches, the Sighisoara fortress, the Saxon settlements with fortified churches in Transylvania as well as the Dacian fortresses in Orastie Mountains.