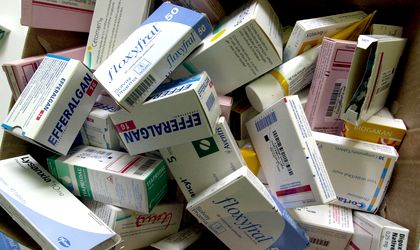 Pharmaceutical sales, at a distribution price, stagnated last year compared to 2012, reaching a value of RON 11.75 billion, after in the first half of the year they increased followed by a decrease.
In the first half of 2013, the market greu 3.5 percent, but it dropped 3.3 percent in Q3 and another 2.4 percent drop in the last quarter.
In euro, the market went up 1.1 percent last year, to EUR 2.65 billion, representing exclusively medicine that reached the pacient, via distributors. If we add parallel exports, the value of sales / distribution surpasses EUR 3 billion.
"Q4 evolution was disappointing, which lead to the market stagnating in 2013 overall. Availability of medicine in Romania is constantly deteriorating, both on the upper level, under the effect of underfinancing and parallel exports, but also on the base, where inexpensive medicine is disappearing from the marketplace", Petru Craciun commented, the general director of Cegedim Romania.
În euro, piaţa a crescut anul trecut cu 1,1%, la 2,65 miliarde euro, reprezentând exclusiv medicamentele care au ajuns de la distribuitori la pacienţi. Dacă sunt adăugate exporturile paralele, valoarea vânzărilor de medicamentepe distribuţie depăşeşte trei miliarde euro.
The two "market drivers" for the pharmaceutical industry in Romania in 2013 where drugs priced between 25 and 100 RON, where sales saw an increase of 3.7 percent. Pharmaceuticals worth over 1,000 lei went up 1.7 percent. The biggest drop was registered for drugs between 100 and 250 lei (-5 percent), followed by products under 10 lei (-3.5%) and medicine in the price range 250 – 1,000 (-3.2%).
The corporation hierarchy changed also. Roche is now the leader of the industry with sales worth RON 860 million and a market share of 7.3 percent, surpassing  Sanofi which recorded sales of RON 827.5 million and a 7 percent market share. Top 10 pharma companies includes, in roder, Servier (sales of RON 677.7 mln, 5.8% market share), Pfizer (RON 604.4 mln, 5.1% market share), GlaxoSmithKline (RON 552.6 mln, 4.7% market share), Merck & Co (RON 468.9 mln, 4% market share), Ranbaxy (RON 453.5 mln, 3.9% market share), AstraZeneca (RON 444.2 mln, 3.8% market share) and Krka (RON 311.8 mln, 2.7% market share).