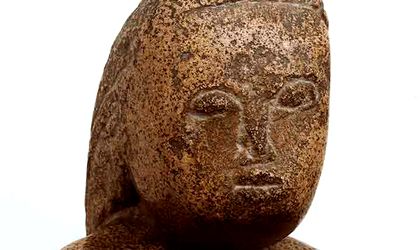 The Romanian government will make last ditch attempt at purchasing the seminal statue by Romanian sculptor Constantin Brancusi, Romanian PM Mihai Tudose announced.
Minister of Finance Ionut Misa and Minister of Culture Lucian Romascanu will resume talks with the owners of Cumintenia Pamantului (Wisdom of the Earth) and discuss one last offer, PM Tudose told broadcaster TVR 1.
"They will talk with the owners. If the deal is closed, that's alright. If not, we reimburse the people and this is how it is," Tudose said, adding that the Romanian state does not have a fixed amount set aside for the purchase. "11-15 million is a staggering amount," said Tudose, suggesting the government is seeking to negotiate.
The Ciolos government started a public subscription process for the purchase of the statue, which failed to attract the amount sought, namely EUR 1.3 million instead of EUR 6 million.
Asked whether the government has a way to refund those who've contributed to the public subscription, the Romanian PM said the necessary means are already in place.
Earlier this year, the head of the Social Democratic Party (PSD) Liviu Dragnea said he does not encourage the [Grindeanu] government to purchase Brancusi's sculpture Wisdom of the Earth. Moreover, he said that the initiative of the Ciolos Government to acquire it raises questions of legality and transparency.
When questioned on the future approach to be taken in regards to the Wisdom of the Earth, Dragnea said: "As far as I understand, had they looked properly, they would have found the documents showing that it already is the property of the Romanian state. On the other hand, this work, like many others, must be recovered, but through a legal and transparent procedure."
What the Ciolos Government did was "neither legal, nor transparent" and mentioned that several commissions in the Parliament will analyze the issue, Dragnea argued.