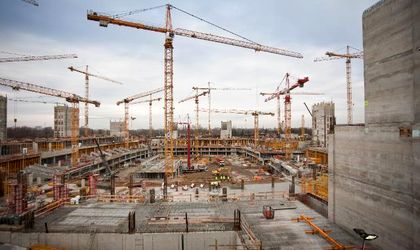 Romania registered the largest decrease of the construction sector among the 28 European Union member states in March, by 10.8 percent year-on-year in calendar adjusted series, Eurostat data show.
"Among Member States for which data are available, the highest increases in production in construction were recorded in Poland (+18.8 percent), Spain (+17.1 percent) and Slovakia (+4.9 percent). The largest decreases were observed in Romania (-10.8 percent), the United Kingdom (-8.1 percent) and France (-2.5 percent)," Eurostat said on Thursday, in a press release.
On May 14, National Institute of Statistics (INS) data showed that the construction works in Romania dropped by 11.9 percent year-on-year in March, as bad weather delayed the beginning of spring works.
Residential buildings declined by 23.9 percent in March and engineering constructions – including government-financed roads and bridges works – dropped by 14.9 percent. Non-residential buildings works rose by 3.5 percent year-on-year.
Compared with February, construction works dropped by 9.2 percent – the second largest decrease in EU, after Hungary – in seasonally adjusted series, due mainly to the impact of bad weather in March on construction sector.
In the first quarter of this year, construction works in Romania declined by 2.1 percent year-on-year, according to official data.