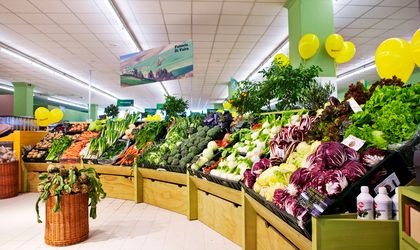 The consumption of bio products in Romania reaches less than 0.5 percent of total food sales, according to a study by Republica BIO.
By comparison, Austria or Germany reach around seven to eight percent in bio products sales, influenced by numerous studies that confirm major endocrine and neuronal dysfunctions in children caused by pesticides, fertilizers and genetically modified organisms, the study says.
Romanians are equally interested in organic food and snacks, and cosmetics and detergents, statistics of Republica BIO show. Although the local market is still far behind the western markets, a positive development has been observed, due primarily to the significant increase in the number of users and frequency of purchase, the increasing number of operators in the organic farming system and the number of stores. Around one percent of organic production is consumed internally, while the rest is exported to countries in Western Europe and the USA.
"We were surprised to see that young mothers buy more cosmetics and detergents. Consumer habits change radically with the addition of a new member to the family. […] Every mother wants her child to be healthy. On the other hand, people 28 to 45 years old are buying more bio snacks, protein bars or vegetable milk. Shopping carts add up on average to RON 150 (EUR 33.9). Our philosophy is to have lower prices, to change the mentality that organic products are expensive, to increase our customer base, and then win our money by increasing the frequency of buying, not by having big trade allowances," explains Ciprian Stancu, founder of Republica BIO.
A recent survey by MEDNET Marketing Research Center shows that only a third of respondents trust bio products as being healthier than conventional ones, half of them consider them expensive and a quarter believe that everything is a marketing invention. However, once they get over this barrier, Romanians tend to choose imported brands, rather than local ones.
"To reach convergence with Germany and Austria (concerning percentage of market value of agricultural products), the bio products market in Romania should reach several hundred million euros annually. `The potential is huge, in France, for example, 18,000 organic operators are certified annually and the potential in Romania is much higher than in France when it comes to bio agriculture. The vegetable-fruit market could double in the next 10 years from year to year. State incentives could increase the number of Romanian producers of organic products and would help lower the prices. It's very simple: the more we produce, the lower prices drop. The lower prices drop, the higher the number of bio products consumers will be," added Ciprian Stancu.
Republica BIO is also a producer of organic fruits and vegetables, but currently operates solely as an online retailer that sells certified organic products. The plan is to start selling products from their own farm next year.
Natalia Martian