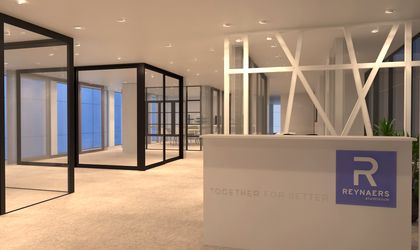 Reynaers Aluminum Romania, part of the European market leader of aluminum solutions for the construction industry, announces the opening of three new showrooms in Iasi, Cluj-Napoca and Timisoara, as part of the company's development strategy on the local market that continued even in the context of the global crisis.
All spaces were designed to serve architectural firms, developers, investors, general contractors, manufacturers and, last but not least, the final beneficiaries. Thus, the showrooms combine both the technical and design aspects of the Reynaers brand.
The products and solutions portfolio that can be found in these showrooms include the recently launched innovations, from the latest extensions of Reynaers systems for windows and doors, sliding doors and curtain walls, but also the latest range of accessories, all in a diverse palette of colors in harmony with the new architectural trends. Moreover, thanks to the takeover of the Forster distribution in Romania, those interested can also find steel samples of these products.
"Reynaers Aluminum has been present in these important areas of the country for several years, through technical and commercial teams. Thus, the decision to expand with showrooms in Iasi, Timisoara and Cluj came naturally. These cities are important business hubs that benefit from important development projects every year, so our expectations for revenue growth are high. In addition, the geographical location of these cities allows and facilitates the company's uniform presence throughout the country. " said Daniel Popa, Country Manager of Reynaers Aluminum Romania.
The showrooms occupy areas of approximately 100 square meters each and integrate teams of 2 or 3 people: sales representative, technical consultant and consultant for architects. Moreover, they provide partners, especially local carpentry and architecture companies, with all the necessary infrastructure for their meetings with their clients.
The three showrooms continue the company's development strategy along with other large-scale projects initiated in 2020 such as the completion of deliveries for One Mircea Eliade and Tiriac Tower, the collaboration with One United Properties for the Neo Floreasca Lake project or the Sema Parc project for which deliveries continue this year, but also the launch of two new products Masterpatio (sliding doors) and Element Façade 7 (curtain wall facade element).