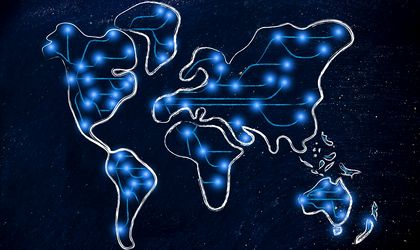 Almost a quarter of global Internet traffic (22 percent) will come from mobile networks by 2022, compared with a 12 percent in 2017, according to Cisco experts estimates in the latest Visual Networking Index (VNI) report.
According to research that includes the most important technology trends for 2019, over the next three years, 60 percent of the global population will use the Internet, and new users will "be greeted by a completely different Internet connection to connect people via portable devices, household and automated vehicles."
In this context, over 28 billion devices and connections will be online, while more than 50 percent of them will be "Machine-to-Machine" (M2M).
In addition, until 2022, video content will account for 82 percent of total IP traffic, the "live video" area being estimated to grow 15 times compared to 2017 and will account for 17 percent of all Internet video traffic.
Also, VR (Virtual Reality) and AR (Augmented Reality) traffic will increase 12-fold, as this year's trend is to increase VR adoption in business, from demos and "test drives" virtual, online product and real estate ratings.
In terms of mobile connectivity, the Cisco VNI report estimates an increase in mobile data traffic over other types of traffic in 2019. Thus, 3G and 4G will continue to be the most widely used protocols, as migration to 5G is still in its infancy. By 2022, 22 percent of global Internet traffic will come from mobile networks, from 12 percent in 2017.
Cisco experts also estimate that blockchain technology will continue to expand into areas such as supply chain management, networking, digital identity, and currency transactions. The expert report reveals that by the end of 2019, most likely, all major cloud service providers will implement Blockchain at the commercial level.
Cisco's list of technology trends for the coming years includes: AI (Artificial Intelligence) and ML (Machine Learning) – which will become something "everyday," expanding the Internet in ways we could not have imagined, increasing bandwidth with increasing video content, increasing mobile connectivity, using Blockchain in new and innovative ways, and, last but not least, how companies need to rethink their network to deliver premium customer experience.