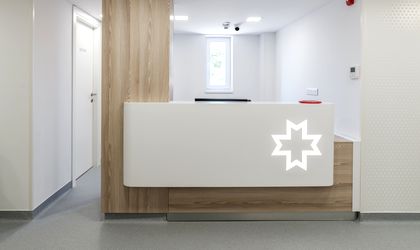 REGINA MARIA The Health Network announces the inauguration of a new polyclinic in northern Bucharest, 4-6 Charles de Gaulle Square. REGINA MARIA Primaverii Polyclinic takes over the operations of Dorobanti Polyclinic and expands its capacity with new specialties and offices and a much larger medical team.
REGINA MARIA Primaverii Polyclinic has a much larger space, the investment reaching over 1 million euros. With a total area of ​​1,165 square meters on four floors, the medical unit offers patients access to 33 medical offices. Adults and children are also provided with offices dedicated to collecting medical tests.
"By opening REGINA MARIA Primaverii Polyclinic, we are increasing our footprint and our capacity to serve patients in Bucharest. It is the second opening this year, as we are striving to continue investing and being where patients need us most, during such difficult times." said Fady Chreih, CEO, REGINA MARIA Health Network.
REGINA MARIA Primaverii Polyclinic is endowed with high-performance equipment for elaborated investigations for numerous medical specialties. Moreover, within the Ophthalmology Center patients can benefit from highly complex tests: optical coherence tomography and angiography (OCT and Angio OCT), computerized perimetry, ultrasound, retinophotography and angiofluorography.
A team of 110 doctors provides integrated services in internal medicine, pulmonology, endocrinology, obstetrics-gynecology, pregnancy ultrasound, family medicine, cardiology, cardiac ultrasound, nephrology, orthopedics-traumatology, ophthalmology, dermatovenerology, neurology, plastic surgery, general surgery, diabetes and metabolic diseases, rheumatology, allergology and immunology, pediatric surgery and orthopedics, pediatrics, pediatric neurology, pediatric nephrology and cardiac ultrasound for children. By the end of the year, the medical team of Primaverii Polyclinic will expand to about 150 doctors and more available medical specialties.
The experience of REGINA MARIA Primaverii Polyclinic specialists is a guarantor of reliability and medical excellence, through the constant concern for patients' health. As a result, patients will be able to benefit from an extensive medical team, integrated services and a large number of specialties in a spacious location, close to public transportation.