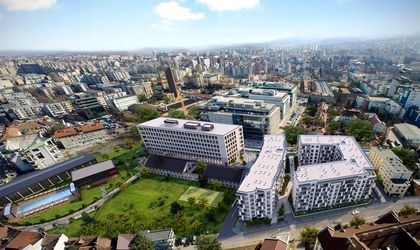 Real estate developer Speedwell has started the construction works for Record Park, the first mixed-use development and urban regeneration project in Cluj-Napoca. The development process will involve an investment of EUR 42 million, and the entire project is due in the second quarter of 2020.
Record Park is a unique mix on the Romanian market, comprising office, retail and residential components anchored by a historic building that will be preserved and transformed into a space for arts, technology and co-working.
The developer will also create more than 7,000 sqm of green spaces, with a promenade and two bridges along Canalul Morii, with urban furniture and greenery, as well as a plaza in the center of the project, which will attract visitors and inhabitants alike. Furthermore, Speedwell aims to create a fully pedestrian community, as all car access shall be directed strictly to the underground levels of the project, endowed with more than 400 parking places.
The project is being developed on a plot of 17,300 square meters, only 15 minutes away walk from the Old Town, and will have a total (aboveground) built area of 36,000 square meters, as well as vast green areas, amounting to almost half of the total land surface.
"Record Park is a unique project and will be developed with great care for all the details. For example, we will keep the old Imperial Stables that will be restored in order to transform them into a prototype for the office of the future, with co-working spaces, an innovation centre and leisure areas. The project will include a state-of-the-art office building, retail spaces, an important residential area as well as pedestrian and vast green areas. Cluj-Napoca proves to have a solid level of demand on all the real estate segments, boosting investors' confidence, especially for well-thought, complex real estate projects, serving their occupiers' sophisticated needs", stated Didier Balcaen, general manager of Speedwell.

"It is our vision becoming reality – creating a small city within a city. A place to gather people, we believe that increasing the quality of life creates communities and communities create a better quality of life. And to do so we have to combine different functions in the near vicinity, like convenience shopping, work, leisure a kindergarten and many open air activities. People are really tired of spending hours and hours per day in traffic and by making mixed projects close to the city center with all services nearby people can spend more time with each other and on themselves. We invested not only our imagination and resources in Record Park, but also vast know-how and expertise tested in other projects from our track record. To name only two of the multiple surprises, World Class will be endowed with the first open air pool that will be open all-year round, thanks to a special retractable roof system. Parking in the office area will be coordinated through a smart app optimizing usage and accessibility", explained Jan Demeyere, partner in Speedwell.
Record Park is located in the Marasti neighbourhood, only 15 minutes away walk from the Old Town. The project will have a wide variety of pedestrian areas, such as a waterside promenade on the Morii Channel, which will be crossable with the help of several footbridges that will link Record Park with The Office.
The office component of Record Park (12,000 sqm) will be represented by an A class office building with seven floors and a leasable area of approximately 1,700 square meters per floor. The building will be built in accordance with the sustainability development criteria and will be BREEAM certified. The office building will have retracted facade insuring thus a minimum heat transfer, a clear floor ceiling height of three meters as well as raised floors for cabling shafts and floor boxes.
"Record Park is a unicorn project for Romania, and will mark the entrance in a new era: that were the developer is designing and thinking from the shoes of the final user. This is why we started the lease process with selecting the most exquisite facilities for our future tenants and residents, such as World Class, which will operate a flagship gym in Record, or the shopping concept and the kindergarten with a < kiss & ride > area", stated Andreea Paun, managing partner of the real estate consultant Griffes, who is responsible for the commercial strategy of Record Park, including office leasing and marketing, on an end-to-end basis.
C6, the former Imperial Stables of the Austro – Hungarian Empire and afterwards an outlet of the local textile factory, will be restored in a prototype for the office of the future. The space will be versatile, combining co-working spaces, a technology and innovation component with an art centre, leisure and restaurant areas.
Record Park's residential area will be formed of two buildings, each with seven floors, comprising 236 studios, one, two and three bedroom apartments, with surfaces starting from 45 sqm and prices starting from 76,000 euro. Record Park will also include a kids' center, with a kindergarten and a dedicated courtyard. At the same time, the residential and office buildings will host more than 1,000 sq.m. of retail spaces at the ground floor, which will include groceries, convenience stores, cleaning and other services.
Real Estate consultant Imoteca will be the residential agency in the project. "We believe Cluj-Napoca was long-awaiting for a project of this quality, with technical specifications and destinations that are matching the most active residents, yet able to offer a secluded oasis for relaxation and true work-life balance", said Rafaela Nebreda, Founder of Imoteca.
Record Park will also include a vast sports component represented by a World Class sport centre with a surface of 1,200 square meters that will be opened in the summer of 2019. This will be a flagship for the local World Class network and will be anchored by an all-season pool with retractable roof, benefiting by a private area in the project. Record Park will be car free on the surface, almost half of the land plot being represented by green spaces, promenade paths and a plaza.