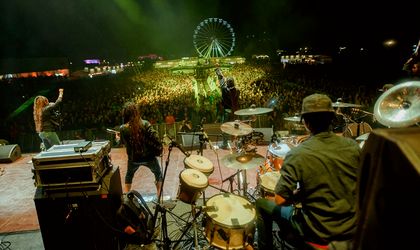 It's mid-July so it's Electric time as we are all used – with rainy days, mud and the most amazing festival experience Romania is offering. But we are on our way to one of those festivals and you'll find critically acclaimed bands, world-famous artists and once in a lifetime performance to the background of a beautiful sunset in an idyllic castle territory.
As you may know, Electric Castle is a unique festival experience that combines music, technology and alternative arts. It features many genres of music including rock, indie, hip hop, electronic and reggae, as well as art installations. The day zero came with one of the most amazing Jamaican reggae artist, Damian Marley, the youngest son of the legendary Bob Marley, who kindly talked with press after his performance. Also, 33.000 people came to the festival, a record for this festival's day zero.
The show
With a slight delay, the band appeared on stage. The performance started with a very powerful social message regarding the Jamaican way of living, just on time for the rain to start. Both new songs from his album Stony Hill and old, famous songs such as One Love and Is this Love were sung and danced together with the audience, with a very cool surprise from the artist: his eight years old son Elijah came on stage and sang with him One Love, offering also an outstanding live performance singing I just call to say I love you. Pretty pretty cool. By the end of the show, it was raining cats and dogs.
The backstage talks
"Lot of people came tonight although it was raining and had a great time when I said "put your hands on" and I could see everyone it was doing it. It was great. It was beautiful, and I would really want to return here, especially because a lot of the new songs from my latest album were known by the public, so that's great. I would love to come back for this public," commented the artist on his feeling on the stage of Electric Castle.
The legacy of being Bob Marley's son
Asked if it was in any kind frustrated by the fact that is Bob Marley's son – especially in terms of expectations, and how is he passing this legacy to his own son who actually was on stage with him, Damian Marley replayed that "it will be a honour if my son names me his father, as well as is it for me an honour to be my father's son". He added: "I explained to people that I don't know other life. I don't know how it is not to be Bob Marley's son. This is the life I know and I am very comfortable with it". Moreover, the discussion escalated to the legacy of his father and the pressure it may get, Damian Marley said that "There are other bigger challenges in life than being Bob Marley's son, that's for sure. In reality, as a musician, people listen to your music because they like it. The public won't love me because I'm Bob Marley's son, they love me because me. That's why at the end of the day, it does not really matter."
The messages sent
Most of his songs are about hope. Maybe you are better as a politician than as an artist, giving the fact that your songs have a lot of positive messages, argued the audience. "I grew up in Jamaica, my grandfather is a politician in Jamaica, so I was exposed to politics in my country, but for me music is a tool to make changes (…) because I speak up current issues."
"Nowadays, we are very much a global community, especially because of the internet and social media and we are always up to date. (…) Music is much more accessible and people are influenced a lot more for each other. (…) Reggae music itself is evolving, too, using this types of media. That's why I can't say if there is a pure music genre out there, everything is influenced", explained Damian Marley.
The marijuana topic
Marijuana in Romania is a tabu subject. But the artist is often mentioning the consumption of it on stage. So what's his message on the matter for a country where we don't talk about marijuana? "I was a 14-15 years old when I started to roll joints on my own, but smoking regularly happened when I left high-school. (…) Marijuana is a medicine – you can't really deny that it has much better results than a lot of pharmaceuticals. There are studies showing it. (…) But it's also a case of culture – you have cold winters here, so this isn't a place where you can grow marijuana. But people are afraid of what they can't understand or don't know. The thing is to stay informed". And we could not agree more.
Photo credit: Electric Castle